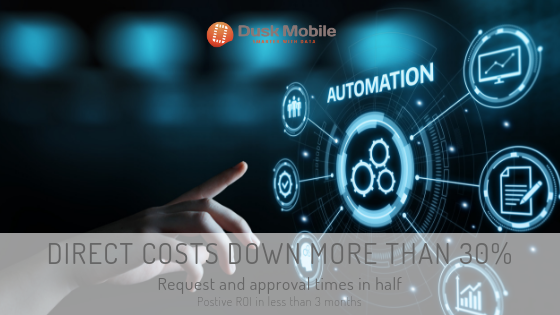 5 easy areas to introduce workflow automation for your teams
Workflow automation (as distinct to Robotic Process Automation) is a frequently identified pain point across our customers, so we thought this week we'd write our blog post about some easy areas to get started with and the benefits of doing so.
1. Exceptions
There are many examples of exceptions that require action taking, essentially items that are not part of the expected process. These could be safety related incidents requiring investigation, reports and remediation. They could be customer enquiries for more information or a complaint.
Real example #1 – A customer had many planning applications coming into their business that required them to modify their physical field-based infrastructure as subdivisions were created. Those planning applications were being held up with manual processes creating significant delays and untold costs for their customer, not to mention the bad publicity. Automating the workflows with a rules engine ensured those planning applications were routed to the right departments based on having some additional information captured at lodgement. In doing this, the design team could undertake their work followed by the engineers much quicker, enabling a quote for works to be returned to the customer. Time was cut from up to 18 weeks to less than 10 weeks, representing a significant improvement to the bottom line of the business and reputation improvements with their customers.
2. Approvals
Purchase Orders, Quotes, Leave, Expenses can all be easily defined by a value where workflow automation lends itself well to. A Purchase Order above a certain value needs to workflow to a higher level of management or a quote above a certain value needs the same.
Leave that doesn't clash with existing leave can be automatically approved via workflow providing your team with a quick response to make their plans.
Expenses below a certain value can automatically be work flowed as approved.
Real example #2 – One of our customers prepared job quotations for their customers. Prior to engaging Dusk Mobile and the Intelligent Operations Platform, the manual workflow looked like this:
Job details captured on paper
Job details typed up and job quoted
Job quote emailed to their Manager if it was above $50,000 for approval
Manager would approve/reject via email or ask questions at their own pace
The job would be sent out or requoted with the process starting again
Efficiency was low with multiple follow ups, phone tag, email exchanges along with missed sales due to delays in providing quotes
The workflow was analysed and automated. It now looks like this:
Job Details Captured electronically in the Dusk App, including pictures, video and audio as required
The job is quoted in the Dusk App and automatically sent to the manager if it is above $50,000 along with an email containing a link
Their Manager reviews the quote and approves/rejects with comments
Their Manager receives automated reminders if they don't take any action, prompting them
The job quote is automatically sent out if Approved with the ability for the customer to electronically approve, triggering an internal project framework workflow to be setup.
3. Setups
A cost on multiple fronts is staff onboarding. Across employees and contractors, delays with manual approvals and disparate systems is commonplace. This usually comes at the worst time when the new user needs to be productive on a short-term engagement or other immediate need. Using an automated workflow from Dusk Mobile, new user onboarding that has been approved with budget can take place with minimal manual touch points. An automated workflow built to have their profile setup across systems with alerting and reminders for bottlenecks.
This results in no more delays on day 1 waiting for system access or 10pm manual approvals from managers catching up on their work. Productivity increases abound with this area.
"Workflow Automation software has been shown to reduce direct costs by more than 30%, cut request and approval cycle times in half, and deliver positive ROI in less than 3 months." Integrify
4. Task Completion
Project work could be large or small, office based, field based, or site based. If it touches technology at some stage, workflow automation can be introduced.
Office based can include teams delivering software, training and support. As the project moves through the phases, automating the workflow eliminates the manual intervention involved at those stages historically.
Field based can include maintenance and construction when a task has been safely signed off, it can be work flowed for the next to begin such as automating the scheduling of equipment or materials to site.
Site based can include facilities such as manufacturing where production runs are completed that need Quality Assurance (QA) afterwards, followed by delivery schedule planning. Using a series of rules, the notifications and hand off's can be work flowed automatically.
5. Reporting
Multiple examples exist of reporting requirements that can be automated across our customers. These start from cyclical reports for different departments internally and customers or suppliers externally. Automating a daily report based on data being received as an example.
Then there are more reactive reports such as remittance advices being workflow to specific departments for release of materials or activation of services. Customer report updates based on actions taken such as deliveries and many more. The manual consolidation of data into reports and sending is prevalent across industries, with many opportunities for automating the workflows.
Takeaway Tip
Implementing workflows needs to be straight forward. Often these can have a low value in isolation but applied across an organisation, quickly add up and warrant automating.
The Return on Investment (ROI), should be easy to see and limited technical debt involved in implementing a software solution. So much so, that the Intelligent Operations Platform from Dusk Mobile has been designed for you to do it. We can of course do it for you.
If you'd like to find out more on automated workflows, time confirmations, centralised project visibility including scheduling with easy integration for your teams or business, get in touch today with our friendly team.
Any questions: Our community is here to help in the Support & Updates area!
Try a 14 day free trial of our Intelligent Operations Platform and start seeing the benefits of automated workflows, informed decision making and a single, comprehensive view of your business in real time. Start collaborating today.
Start your free trial today
Not sure where to start? Request a demo from our team via the link:
Request a Demo
Or you just have some questions:
Email: mobile @ duskmobile.com
Phone: +61 (0)3 8679 2208
References
Website: Integrify