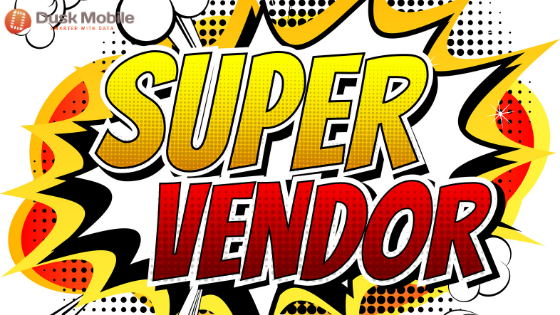 4 Ways to Engage Your Vendors and Develop a True Partnership
This week I've put together a post based on experience for building a true partnership with your vendors. As a vendor for a number of years I've seen and learnt a lot. I've not always got it right but having a robust relationship delivers benefits to both parties throughout the life of the engagement.
Honesty
This may sound obvious and seemlingly something that goes without saying but honesty takes many forms. Honesty isn't simply just not lying or telling the truth, it's far more. If your vendor isn't performing or meeting expectations, tell them. Too often those inside a business for different reasons, want to protect a vendor. The vendor is none the wiser and bubbling away in the background is a ground swell of frustration that is not being addressed. The first the vendor knows about it is when they their contract is terminated.
Perhaps a vendor's product has become too expensive and as your internal budget is reduced each year, you look to save through licence count reductions rather than an overall reduction in price based on the market. By not being honest, you can potentially damage the vendor's reputation in the market more broadly.
Engagement
Regular diarised engagement with your vendors ensures there is a formal channel for dialogue. Agenda items should include at a minimum:
Current status of operations on both sides and any impacts positive or negative to the relationship.
Specifics relating to the account such as support ticket volumes, open/closed tickets and usage of support hours.
Strategy – looking forward 1 month, 3 months and 12 months. Are these still on track from the last meeting and if there are changes, planning to accommodate them.
Other Business – How can your vendor support you further and vice versa. Are there issues that need to be discussed? Your vendor likely has more touch points in the current market than your role and is likely well connected to faciliate solving other challenges for you. Your own personal octopus for want of a better term!
Real Example – Here at Dusk, with all our customers, we make a point of regularly engaging. This varies based on the stage of their relationship. Brand new customers have daily check in calls to support them through the change management process, regardless of size. We consider this the first important stage where the customer has put their trust in us our Intelligent Operations Platform.
The engagement then moves to either a monthly, bi-monthly or quarterly diarised meeting, based on their chosen support plan. Having this diarised ensures there is a minimum forum for conversation.
Team Work
Ideally your vendor relationship should be an extension of your own internal team. Successes are celebrated and communication is open, including commiserations. The more your vendor knows (within commercial boundaries), the more value they can add.
If the relationship is 50/50, you're both winners. A good vendor is constantly learning and this comes from working closely with their customers. Learning new tools and solving new challenges with you. Depending on the size of your vendor, these are not all commercially motivated but driven by a want to help and learn for self interest.
Real Example – As a previous manager in large corporate businesses, I've made a point of including my small contract workforce as part of the full time team extracurricular activities. The 2 teams worked as one during the day, treating them differently didn't make sense to me. It created many great memories for all of us that we still talk about years later.
Value Add
Ultimately in a commercial situation, your vendor should be adding value. A good vendor will monitor this and look for further opportunities to add value. A bad example of this is a vendor asking you to "upgrade" your product because it is easier for them to support or the cost of supporting it at their end is too high. A good example is a vendor proactively discussing how another customer (non-named without their permission) has achieved improvements and the benefits that can also deliver for your business. Icing on the cake is the ability to "try" said feature/product and reference the customer where possible.
Takeaway Tip
Collaboration in your organisation can start today with a tactical but strategically scalable solution, the Intelligent Operations Platform (IOP) from Dusk Mobile. The IOP is an industry leading collaborative work management platform for planning and scheduling. It connects your staff on any device, any time and in any location. Integrate your favourite products quickly and easily for real time collaboration amongst your teams.
Automating work functions and delivering a connected experience has never been easier and achieving productivity improvements can start tomorrow.
A great Field Services Management (FSM) software solution that includes a Program management tool, provides you with an easy way to build automation into your daily work management processes. The creation and management of these should always be via a user-friendly (and 'No Code') interface – allowing your business users to maintain and evolve the automation without the need for additional IT or development costs.
Avoid solutions that increase support overheads on your IT department to maintain them, or (worse still) embed a dependency on the provider to deliver ongoing additional professional services to continue servicing your evolving needs'.
So how do you get started? Speak to the team at Dusk about our experience in delivering our collaborative work management SaaS solution to your business. Using bite size deliverables and incremental change, your business can transform progressively. Clean, secure integration with a polished user interface to design and build your baseline quickly.
This leads to improved productivity and visibility for your workforce. Connect to your existing systems to create an all of customer view that can be shared between all authorised parties.
If you'd like to find out more on visibility, consistent messaging, workflows, automation with project management and easy integration for your teams or business, get in touch today with our friendly team.
Any questions, our community is here to help in the Support & Updates area!
Try a 14 day free trial of our Intelligent Operations Platform and start seeing the benefits of automated workflows, informed decision making and a single, comprehensive view of your business in real time. Start collaborating today.
Start your free trial today
Not sure where to start? Request a demo from our team via the link:
Request a Demo
Or you just have some questions:
Email: mobile @ duskmobile.com
Phone: +61 (0)3 8679 2208