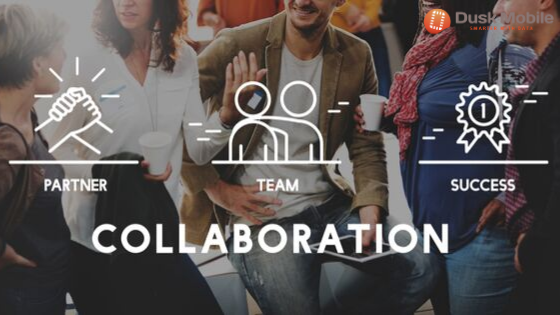 5 benefits of accessing your information from one data platform
As you look across your organisation and teams, the demands both internally and externally to deliver more with less are growing and will continue to do so. Internally your stakeholders want to understand more about their customers, leverage existing data, create new data streams and quite likely reduce or at best maintain costs.
Externally your customers expect more. Your industry is compared to other industries and their expectations elevated. We're in a time of "need it now", regardless of product or service. An era of connected simplicity and speed to market are expected and no longer a wish.
Your requirements are coming in from multiple angles and need to be serviced, which is where a cloud platform comes in to play.
To quote Mckinsey: "For any sizeable company, a state-of-the-art data and analytics platform is no longer an option but a necessity."
1. Connectivity
A cloud data platform provides a capability to connect your disparate systems together, rather than adding high cost enhancements to your existing software that take time to develop. Instead leverage the data aready stored in those systems through secure connectivity to a collaborative work management platform.
To date this may have been considered or delivered through a BI tool, which is an excellent resource for analysis of current and past data. A collaborative work management platform builds on this and enables action to be taken on that data, beyond notifications or alerts. Perhaps a customer has raised a request through your CRM that has been actioned but requires some follow on work.
Connectivity can be delivered through a cloud data platform to your ERP to automate this meaning customer service improves, costs are reduced and human error is eliminated from a back office function.
Vendors today in this space have pre-built connectors, or out of the box. These connectors are well used, maintained and secure enabling ease of use to connect in to your disparate data sources.
2. Responsiveness to requests
Reactiveness to both internal and external requirements. New contracts, new regulations etc. Contracts and business functions are being digitized at a rate not seen before. Furthermore digitisation represents a point of difference in awarding contracts, so having the ability as a business to respond to these requests has become critical. With a collaborative work management platform, templates can be created to rapidly enable these new work functions or contracts. Templates that provide an easy to understand cost to service that contract or new function. Imagine being able to confidently quote the associated costs to connect, mobilise and provide customer access with accuracy.
3. Lower TCO or TCU
A cloud based collaborative work management platform can enable the consolidation of other data sources in your business. Total Cost of Ownership (TCO) can be reduced. For example do you pay for Microsoft Project licenses for all your staff and customers regardless of how often they use the tool?
Having the capability to manage projects smartly in a collaborative work management platform that can import/export those Microsoft Project files reduces costs. You may be paying for a tier 1 field services solution with dynamic scheduling but could service that function through a platform.
Total Cost of Use is a term we mentioned in this blog post and is considered a more accurate way of measuring cloud based products. Without owning the software per se, TCU is a good method. Read more here on another of our blog posts:
The incremental cost to continue adding value to your business is significantly reduced based on the existing investment. Additional costs are typically incurred through the purchase of new user licences (that ramp up and down with usage, not fixed), modules, connectors and support. Training and minor enhancements from the vendor if required should also be considered but represent a fraction of the cost compared to legacy on premise disparate systems.
4. Transform at your pace
Without the need for a full transformation program, change incrementally and add continuous value at the pace of your business. Your teams can scale at their own pace with business functions and departments coming online as budget dictates, benefits are defined or dependent projects are delivered.
With a collaborative work management platform, business cases that were once negative due to the technology investment required, now become positive. The 5 person team in your business becomes can utilise the same technology as the 500+ person teams. Examples such as this yield further benefits downstream through centralised visibility into their respective work practices.
5. Analysis of cross functional data
Comprising both structured and unstructured data. Structured through a data warehouse or unstructured through a data lake. Building on the introduction, your business may have a BI tool in place that a collaborative work management platform can enhance. Imagine being able to look into multiple teams, business units or your customers and seeing previously unseen benefits. Perhaps one team is servicing a customer differently to another, delivering a more profitable contract. Or just gems hiding in unstructured data that can now be identified through a platform.
Time and cost can all be saved with information being accessed through a central point. A distilled single source of truth that enables your business and teams to scale translating data into business value.
References
Building a Great Data Platform
Collaboration software keeps growing but no one company is dominating
Takeaway Tip
So how do you get started? Speak to the team at Dusk about our experience in delivering our collaborative work management SaaS solution to your business. Using bite size deliverables and incremental change, your business can transform progressively. Clean, secure integration with a polished user interface to design and build your baseline quickly.
This leads to improved productivity for your workforce. Connect to your existing systems to create an all of customer view that can be shared between all authorised parties.
The Dusk Mobile Intelligent Operations Platform is an industry leading collaborative work management platform. It connects your staff on any device, any time and in any location. Integrate your favourite products quickly and easily for real time collaboration amongst your teams. Automating work functions and delivering a connected experience has never been easier and achieving productivity improvements can start tomorrow.
If you'd like to find out more on visibility, consistent messaging, workflows, automation with project management and easy integration for your teams or business, get in touch today with our friendly team.
Any questions: Our community is here to help in the Support & Updates area!
Try a 14 day free trial of our Intelligent Operations Platform and start seeing the benefits of automated workflows, informed decision making and a single, comprehensive view of your business in real time. Start collaborating today.
Start your free trial today
Not sure where to start? Request a demo from our team via the link:
Request a Demo
Or you just have some questions:
Email: mobile @ duskmobile.com
Phone: +61 (0)3 8679 2208