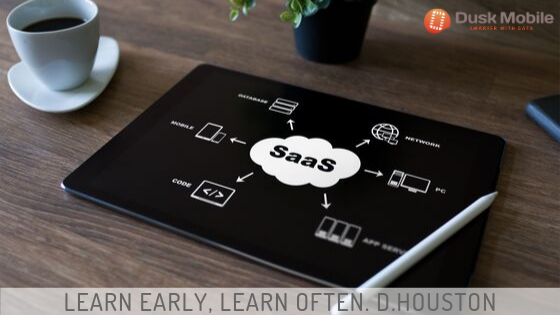 5 areas to consider when moving to the cloud
The business landscape is moving at an unprecedented rate with disrupters entering your market who will become competitors. The time is now for keeping up with the new wave of competitors that have low barriers to entry into the market, with low overheads powered by hungry forward thinkers.
To do this means having software in your organisation that adapts to focus on placing your customer front and center, like many industries haven't experienced before. Achieving this can be done more easily with cloud based Software-as-a-Service or, SaaS.
What is SaaS?
Simply software that you subscribe to. Priced with a monthly or annual fee for access plus add on's as required, it is software that isn't owned typically (there are exceptions). It has many benefits as all the responsibility for running the software sits with the software vendor and you just log in to use it.
How do you get started though and what should you look out for?
What are the key considerations when considering a move to the cloud for your core systems?
If you're still running a fully on-premise or largely on-premise setup for your enterprise software, costs can be notoriously high for this model. Not just infrastructure but the associated software, hardware and labour that sits around the product. Then the ongoing skills training and in some cases accreditation to support these applications. Perhaps the license model is a "set and forget" or only a true up on licence increases, not decreases.
1. Planning
It's important to look at your business today and where your business needs to be in 12, 24 and 36 months. Explore the industry locally and internationally and getting closer to your customers. What do your customers want and why? We cover Customer Relationship Management products in another post. Having many data points on your customers delivers great value at this stage of analysis.
Once you've worked through a high level plan, explore the market for vendors. Rather than looking at vendors that are just leaders in the Gartner magic quadrant and have been for a long time, it's also important to look at other businesses in your industry and the tools they are using.
Let's say you need an Enterprise Asset Management system. Rather than just looking at Tier 1 vendors, look at Tier 2. Writing from experience, Tier 2 are often very hungry and keen to solve challenges by being close to customers. They often don't come with the overheads that traditional Tier 1 vendors do, offering innovative approaches and a "keen to impress" attitude.
Evaluating performance requirements based on your current network bandwidth is important at this stage but should not preclude a decision. Most capital city based organisations will have ample bandwidth but don't forget the teams in the regional sites! If you've recently delivered any kind of video conferencing software, such as that of Zoom, you will likely have plenty of bandwidth but worth a check. Building on this is failover or redundancy in the event that you lose a network link. We rarely see businesses running without this today but worth checking.
2. Delivery
As an example of a regularly commented difference in our delivery. We offer delivery in value added milestones. Built off the back of the agile delivery model and transforming without the need for a digital transformation program.
We have found that customers want to see how their data looks in days or weeks not months or committing to a large program of work without knowing the outcome. This model lends itself well to payment milestones with clearly defined outcome based phased deliverables.
3. Performance
You may have experienced data demands from overnight on-premise batch processes or backups failing and being re-run during business hours, crippling both the network and the software. Best intentions from one team create havoc for business operations teams.
These are removed with a SaaS platform and instead use your cloud vendors infrastructure. The leaders in this market scale with your business and provide proactive alerts and notifications to assist in this area. This is also the area that having enough network bandwidth and failover come into their own.
4. Security
Once the cloud was considered the security concern and it is now considered the place to be for security. SaaS products are well placed to integrate securely into your existing security platforms and in some cases have strategic partnerships with security vendors, such as Okta for Single Sign On (SSO). There are many other areas of security that we go into in another post but by using solutions that reside on leading cloud infrastructure such as AWS, peace of mind can be ensured.
5. The cost of not moving to the cloud
Perhaps one of the least considered areas. By staying put, missed opportunities including new markets or competitors providing offerings faster. Viewing the exercise through this lens shows the cost of not moving to the cloud is greater than the cost of acquisition. Savings can be considered but the doors that are opened to new opportunities, new functionality, greater efficiencies and ways of interacting with customers, suppliers and other third parties deliver superior benefits.
Investment Measurement
Investment is very different. Yes, you don't own the product, you licence it but you are paying for software that remains current. Current security, current patches and current functionality. Even enhancements typically come in at an incremental portion of a typical on-premise setup with cloud vendors offering multiple options on funding them.
Measuring return is also carried out differently as noted by Denis Pombriant. The term TCO for SaaS should be amended to TCU, Total Cost of Use.
Other Benefits
Ready access to Automation tools and the flexibility to access data driven insights with ease. There are mutual benefits as SaaS vendors take longer to turn a profit per customer so it's in their interest to invest in the relationship and for the customer to invest equally in the relationship. Significantly less time spent undertaking auditing, resulting in reduced audit fees as noted by Kevin Roberts. "There's an extraordinary benefit to having access to everything without having to turn over every rock"
References
Ditching the old method of estimating ERP costs
Takeaway Tip
So how do you get started? Speak to the team at Dusk about our experience in delivering our collaborative work management SaaS solution to your business. Using bite size deliverables and incremental change, your business can transform progressively. Clean, secure integration with a polished user interface to design and build your baseline quickly.
This leads to improved productivity for your workforce. Connect to your existing systems to create an all of customer view that can be shared between all authorised parties.
The Dusk Mobile Intelligent Operations Platform is an industry leading collaborative work management platform. It connects your staff on any device, any time and in any location. Integrate your favourite products quickly and easily for real time collaboration amongst your teams.
Job management software for automating work functions and delivering a connected experience has never been easier. Achieving productivity improvements can start tomorrow.
If you'd like to find out more on visibility, consistent messaging, workflows, automation with project management and easy integration for your teams or business, get in touch today with our friendly team.
Any questions: Our community is here to help in the Support & Updates area!
Try a 14 day free trial of our Intelligent Operations Platform and start seeing the benefits of automated workflows, informed decision making and a single, comprehensive view of your business in real time. Start collaborating today.
Start your free trial today
Not sure where to start? Request a demo from our team via the link:
Request a Demo
Or you just have some questions:
Email: mobile @ duskmobile.com
Phone: +61 (0)3 8679 2208