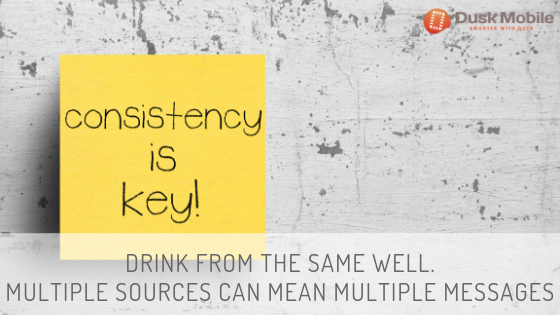 5 reasons for consistent customer messaging
Typically, your customer data is stored in many disparate systems making consistent customer messaging a challenge. In some cases, transformation programs have sought to bring those systems together in the last decade through integration or migration. Stemming from siloed business units that have grown with their own view on the customer and their own view on technology. As more is learned about your customers, more data is collected. Products such as Salesforce that now capture large cross functional areas of your business provide the capability to capture a large amount of customer information but still there is life outside of ecosystem.
If we start by looking at how our personal life influences our expectations of business relationships. Facebook or Google know more about us than most of us realise. Marketing techniques such as "follow me marketing" provide a seemingly knowledgeable trail of our searches appearing as we browse other websites. Yet when dealing with organisations such as essential services, light years in same cases separate the experiences.
An example from the recent 10-year anniversary of the smartphone in Australia, when the iPhone 3G landed on our shores (not the iPhone 3 released overseas before this date). It didn't take long for business users with these phones to start performing business tasks on their smartphones. The issue here was the corporate landscape wasn't setup across security, user experience and information accessibility. Over the following years, this issue became enormous as more personal apps became available. Work environments couldn't keep up with personal experiences driving the business experience.
Omni Channel
For anyone who hasn't come across this term, in a nutshell it describes the experience a customer can expect across multiple engagement channels. An example being the experience between bricks and mortar to online. The term came to prevalence in 2003 with Best Buy in the US as referenced here.
How many of our readers can remember signing up to a website to place an order, receiving an error and calling the local store, only to be told that they can't help? I personally experienced this a few years ago where the inventory online carried a different SKU to the physical store. Upon finding the item instore, I went online to order it a few weeks later and couldn't match the items or SKU's. Imagine the databases!
1. Transparency
All of us make mistakes and whether that is human error such as an error with a booking or system error such as an unplanned outage, owning those has become so important when dealing with customers.
Real example #1 – Just this week we saw Qantas having to cancel flights QF93/QF94 stranding hundreds of people. The article below contains links to Tweets including, "ground staff won't give us any useful info" and others. With many moving parts in the preparation of a flight, cancelling an aircraft not a decision taken lightly. With safety being at the forefront, I am sure most if not all passengers understood the decisions. However the customer messaging consistency and timing has been mentioned in many posts plus some news outlets. Could there have been more transparency to alleviate confusion? Article here on: news.com.au
Real Example #2 – A number of years ago I was introduced to the security product, Okta when undertaking a solution architecture engagement for a customer. Aside from filling a niche with a capable product, one item stood out to me. They published their uptime on their website: https://status.okta.com/
This is a wonderful example of transparency and something that keeps me coming back to Okta in conversations (along with their industry leading functionality and integrations).
2. Customer Experience & NPS
Your customers today have many touch points in an organisation across the physical and digital world. Your management set KPI's to grow customer relationships with direct revenue or Net Promoter Score (NPS), referrals and others. Having consistent messaging delivers a higher level of customer experience, which in turn hopefully improves NPS. This data is used to benchmark globally by many organisations for rankings, so having a strong NPS is a sought after area.
3. Build trust & delivering on promises
In today's age of social sharing, referral and online reputation, doing the right thing and honoring that commitment is just as important as it has ever been. However, the difference now is the ability to voice issues more easily and for those issues to be more easily heard by many parties.
Most of us have at some stage had an organisation promise to return a call, send something out or deliver a package by a certain date but it hasn't happened. Not just delayed but nothing…. Then when we've called back to follow up and we've been advised the same information, we've instead asked for a call reference number, or a double check such as confirmation email. This shifts trust and changes perception as a customer
4. Consistency
This in my opinion underpins the other key messaging areas. If there is an outage, delay, lost item, breached SLA or even just positive news such as on time, restored service etc., the messaging needs to be consistent. An SMS saying something different to a website that is different again to the contact center differing to social media channels is a common occurrence and a source of immense frustration.
Solving this is easier said than done even in small organisations. Breaking down functional silos to start sharing data within the 4 walls of your organisation is the starting point. Regular meetings between Sales and Customer Service to share problems and solutions. Jacada expand on this:
A common example could look like this in your organisation for a customer:
Contact center communications with a sale or request
Scheduler communications to book the work in
Field Communications with the actual arrival/delay on the day
Third Party communications for activation
Takeaway Tip
So how do you get started? Speak to the team at Dusk about bringing together your disparate systems with crucial customer information to visualise, enabling a superior consistent message to be delivered by all your teams. Have a whole of customer view.
The Dusk Mobile Intelligent Operations Platform connects your staff on any device, any time and in any location. Integrate your favourite products quickly and easily for real time collaboration amongst your teams. Automating work functions and delivering a connected experience has never been easier and achieving productivity improvements can start tomorrow.
If you'd like to find out more on consistent messaging, visibility, workflows, automation with project management and easy integration for your teams or business, get in touch today with our friendly team.
Any questions: Our community is here to help in the Support & Updates area!
Try a 14 day free trial of our Intelligent Operations Platform and start seeing the benefits of automated workflows, informed decision making and a single, comprehensive view of your business in real time. Start collaborating today.
Start your free trial today
Not sure where to start? Request a demo from our team via the link:
Request a Demo
Or you just have some questions:
Email: mobile @ duskmobile.com
Phone: +61 (0)3 8679 2208