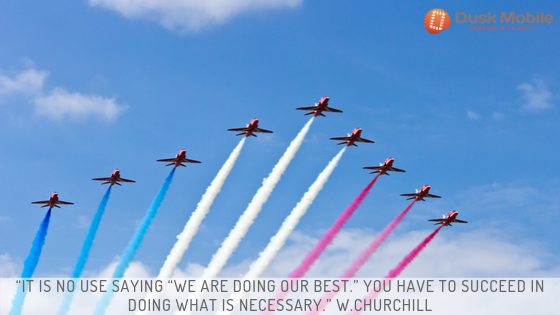 5 reasons to align goals and objectives across teams with a single view
To achieve operational excellence and deliver benefits to your business, aligning the goals and objectives of your teams is a fundamental foundation. Your business likely already has Core Values, a Mission Statement and Vision. Perhaps your customer service department run regular events to remind your teams of these or you have company merchandise regularly distributed.
This is a great start but how can you provide your teams with the tools and capabilities they need to execute on these goals and objectives? Here we look at 5 areas to execute on this for your organisation.
1. Understand your business process end to end
Select a simple process and map the journey. What are the touch points with external parties including customers and suppliers? Then look at the internal departments that are involved in the process. Look at the interactions including people and technology. Starting with a simple process increases the likelihood of achieving the objective, which in turn breeds momentum.
2. Break down organizational silos
This can be easier said than done and is why achieving step 1 is so important. What other work is performed by each department or business unit identified previously. Knowing this and the priority of the mapped process, will have an influence on the outcome. Having the visibility of work across the business process is important to aligning goals and objectives.
How are your organizational KPI's defined for each department and are there are any potential conflicts within those departments or with their leadership?
Different examples could include:
Measurement on resolution of the item
Measurement on NPS
Measurement on expanding your broader business offering to the customer
Measurement on availability or uptime
Real example – A Dusk Mobile customer received requests for infrastructure installations from their customer. This represented net new revenue, a KPI for the team receiving the request and their Business Development Managers.
However, the process interacted with Finance, Design and the Engineering department also. Finance had this process as a priority but Design and Engineering did not. Digging deeper, Design and Engineering had KPI's on availability and uptime, which drove the priorities of their work. This made sense many years ago but in a more competitive landscape, these need to be adjusted, which in turn they were.
3. Make technology part of the process
Once the process and the people part has been understood and aligned, introducing change through technology comes into play. Selecting a platform that can be rolled out as each new process is mapped, understood and aligned is the next stage. A collaborative work management platform provides a single pane of glass view into your existing systems.
A platform that is intuitive for your users including internal staff, suppliers and customers will all the momentum to continue. A platform that provides each party with the information they need with minimal training should be selected. A platform that adapts to your business processes and not a vendor dictated roadmap that restricts your business. This is further expanded in another post here.
A technology solution that unites provides visibility into each area of the process and ensures your staff members can take time off unencumbered. In the past paper may have sat on a staff members desk or with a supplier, causing hours of chasing or rework. By using technology as the enabler, other team members or parties have the visibility and can take action accordingly.
4. Continuous improvement
With any process and technology change, there is opportunity to continuously improve. Your customers may expect more and your internal teams may have better ideas. Perhaps your suppliers want to deliver greater value to your business by interfacing to their systems.
To allow for this, provide feedback mechanisms such as including short customer surveys that are mobile rendered and incorporate that feedback. A good way to do this is by providing the opportunity for improvements to be voted up or down and bring your end to end process community together through collaboration.
Delivering on this continuous improvement feedback must be emphasized to keep engagement up and momentum across your business.
5. Improved Service Delivery and Business Performance
When business units and teams are aligned, service delivery improves. This in turn has a multiplier effect on business performance. Moral is lifted with more people having a voice and being heard. Favourable conversations are had about what is working and not just what is not working.
In a large organisation it can be challenging to unite the many moving parts across business processes. If each role can see how they are shaping the business and the effect of their work, no matter how small it goes a long way to creating a culture of "can do".
We advocate incremental change and partnering with a vendor who is going to walk the journey with your business to deliver on aligning your goals and objectives. As processes are tackled that are more challenging, the pace may need to be adjusted accordingly, which a good collaborative work management vendor will do for you.
Takeaway Tip
So how do you get started? Speak to the team at Dusk about our experience in delivering our collaborative work management SaaS solution to your business. Using bite size deliverables and incremental change, your business can transform progressively. Clean, secure integration with a polished user interface to design and build your baseline quickly.
This leads to improved productivity for your workforce. Connect to your existing systems to create an all of customer view that can be shared between all authorised parties.
The Dusk Mobile Intelligent Operations Platform is an industry leading collaborative work management platform. It connects your staff on any device, any time and in any location. Integrate your favourite products quickly and easily for real time collaboration amongst your teams. Automating work functions and delivering a connected experience has never been easier and achieving productivity improvements can start tomorrow.
If you'd like to find out more on visibility, consistent messaging, workflows, automation with project management and easy integration for your teams or business, get in touch today with our friendly team.
Any questions: Our community is here to help in the Support & Updates area!
Try a 14 day free trial of our Intelligent Operations Platform and start seeing the benefits of automated workflows, informed decision making and a single, comprehensive view of your business in real time. Start collaborating today.
Start your free trial today
Not sure where to start? Request a demo from our team via the link:
Request a Demo
Or you just have some questions:
Email: mobile @ duskmobile.com
Phone: +61 (0)3 8679 2208