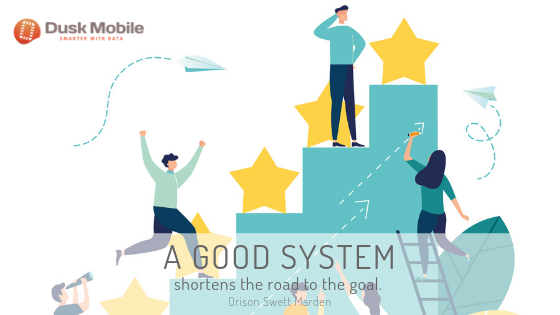 5 considerations when selecting a collaborative work management platform
Allowing your teams to communicate quickly and seamlessly regardless of skills or location. This is the workplace of the future and selecting a vendor that enables this is a crucial step in this collaborative journey.
Where to start?
A collaborative work management platform is going to shift the traditional way of siloed working. This introduces new ways of working for teams and can trigger a paradigm shift for your organisation, transformed and realising significant benefits across multiple fronts. Here are 5 key considerations when selecting a vendor to partner with.
1. Strategy
What are you trying to solve with the new world? Is this a tactical solution or a longer term 3+ year decision? Do you want your users to only view and be aware of the data or can they take action? Do you want anyone to take action or just specific users?
When talking to a vendor, look at their committed road map and how this aligns with both your organisation technology road map and your business road map. Do they resonate and crucially can they show you how your industry has influenced their road map to date? Look for a vendor that will work with you on a business driven road map to build out industry specific integrations rather than be trapped on a vendor dictated road map of one size fits all.
2. Technology Design
Engage your Enterprise Architect and Solution Architects early to understand how a collaborative work management platform can and should integrate with your existing technology. How will they "glue" together and deliver an experience that is going to yield results? Out of the box functionality should include easy connectivity to your existing systems using secure API's at a minimum that are well documented.
The infrastructure should be scaleable to grow with your business and store your data in a location that conforms to your business requirements, including just in this country if required. Look for a vendor that is open with their system up-time and how they handle outages.
What existing cloud products does your organisation have in place and how do they gain access to data? Look across departments in Finance, Operations, Sales, Marketing, HR, Legal and IT to understand what information can be integrated to start delivering benefits.
3. Security
Security need to balance the means to collaborate with the boundaries of control. Planning is a must as is engagement at this stage. What existing systems are in place to manage user access and data and does your organisation have industry leading technologies? Are their plans to update these technologies if needed and could this project be a driver?
Data Data Data. Data at rest, data in transit. With multiple examples of data breaches and GDPR introduced in Europe along with global frameworks, designing and taking control of this area is at the forefront of a decision. Consider vendors that utilise privacy by design methods, retaining only the data that is required and strict controls in place for the removal upon request. Audit logs for activity across the entire data life-cycle with mechanisms in place to identify anomalies in real time should be standard. Questions on encryption and frameworks such as the National Institute of Standards and Technology (NIST) should be readily answered.
Where are your user base dispersed across? Are they just your team, a broader business unit, your customers, your suppliers or all of the above? The definition of a collaborative work management platform will be bringing together multiple parties to "collaborate".  Management of these roles should be straight forward in a platform including permission based access. Aside from the access itself, consider licence implications for non regular users that quickly add up with some software.
4. User Design
It's 2019 so providing your company with pre-built templates along with drag and drop functionality should be at the forefront of the user experience from a vendor. WordPress and their plugin's have been delivering this for years and it is more than reasonable to expect an enterprise vendor to be doing the same. A "No Code" or "Low Code" approach to reduce delivery time and increase ROI when automating critical business functions should be sought.
Inbuilt automation. Without this, limited value will be realised. The ability for a collaborative work management platform to be configured for your workflows using easy to use automation tools should be prioritised.
Real example #1 – A meter reading job retrieved from one source system is assigned to a technician for completion. In parallel a request needs to be raised in another system while giving the end customer the option to Accept/Decline/Change the proposed appointment time. Following the completion of the job, a scheduled notification for the end customer to rate their experience upon closing the job out for the full experience needs to be sent.  Simple synchronisation is crucial using workflows.
5. Change Management
How empowered are your end users? Do you have change management practices in place currently and a culture of self service? Do you have a distributed work force across languages, cultures, time zones and skills? Consider on-boarding technologies that "walk" the user through the journey so they are not left feeling exposed or incorrectly trained. Would certain teams benefit from a train the train approach either in person or over web technology? This area should not be underestimated and along with security has easily shown itself as the standout keys to success.
Do you want ready access to data from multiple teams, business units, third parties? Are you just trying to visualise and access existing technology through a central secure platform? What actions do you require of your end users, acknowledgement of information or take action? How can a vendor assist you to empower your business users and bring together a suite of technologies into one platform?
Choose a technology and vendor that is easy to understand, intuitive and caters for the spectrum of abilities that will use their product. Your end user is King or Queen and need to be looked after.
Real example #2 – A property development company brings together sales staff who are able to show beautiful renders and reserve those properties in a sales meeting with their new customer. The contracts are pulled down from their legal software, electronically signed and then stored. Using data from their CRM, the customer is kept up to date with photos from their personalised login. Upon completion of the build, inspections are then performed with defects identified that are fed back for the builders, painters, carpenters, plumbers to address before the customer sees their new property. The customer then has the opportunity to undertake the same review with all information being fed back in chronologically. All parties can sign with a full end to end customer journey captured involving multiple parties through the collaborative work management platform. A superb example of using a collaborative work management platform across mobile and multiple web products all integrated cleanly for a single source of truth.
Takeaway Tip
Vendor value. You're selecting a partner with whom you are likely entering a trusted, long term relationship with. The vendor needs to bring best practice, industry knowledge and networks to the table to give you the confidence they are leading your organisation in the right direction and will be there when needed.
Select a solution that is harmonious with your security teams, existing investment and strategic IT plans. On top of this a solution that delivers a great user experience and thorough change management features included will see your organisation on a journey to the workplace of the future.
Start driving productivity, uncover innovative new ways of working and realise the benefits of collaboration between people and data.
Try a 14 day free trial of our Intelligent Operations Platform and start seeing the benefits of searchable data, informed decision making and a single, comprehensive view of your business in real time. Start collaborating today.
Start your free trial today
Any questions: Our community is here to help in the Support & Updates area!
Email: mobile @ duskmobile.com
Phone: 03 8679 2208