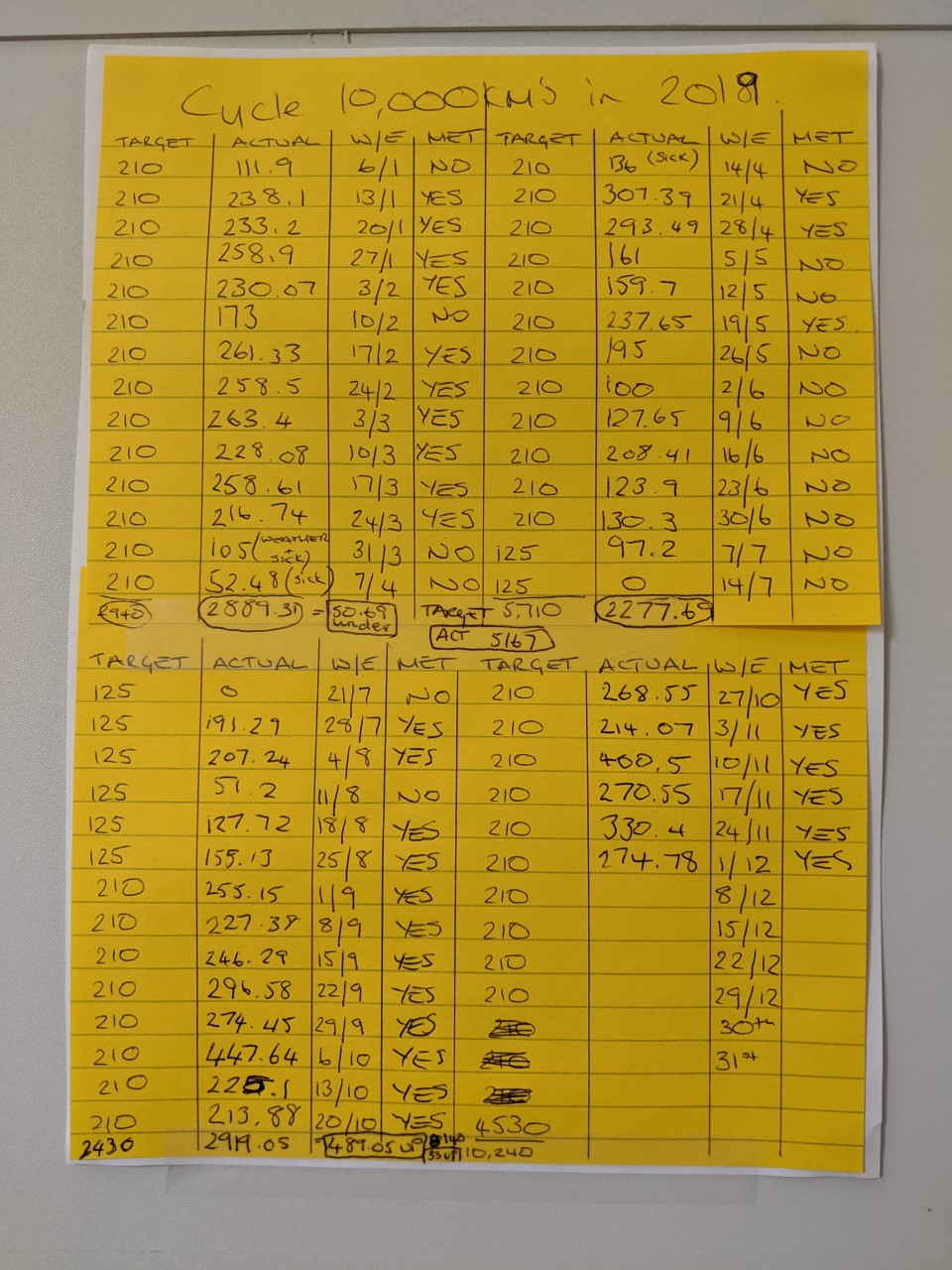 Setting Goals, Measuring and Achieving them
Something a bit different this week, goals. This post can be used for kilometres, dollars or any other kind of target you're trying to reach, including within your business.
Each Christmas/New Year break, I set myself personal and business goals for the year ahead. I've been doing this consciously and sub consciously for over 20 years, although in more recent years I've been visualising them.
One of the goals I set myself at the end of 2018 was to ride 10,000km during 2019. At this point I should preface this with; I have been riding for a long time so it was less about the physical fitness and more about getting out regularly. Since launching Dusk Mobile in 2013 and being hit by a vehicle whilst riding a couple of months before that, I have struggled to ride consistently on the open road. I relied heavily on a support network to get out and ride, which inhibited my ability to maintain my fitness.
So, how did I do it……
1. Planning – Break into weekly targets rolling up to quarterly targets
In my case I sat down with a piece of paper and split 10,000kms out over 52 weeks. The reason I put it into weeks was just down to the app I use, Strava, measuring weekly totals. This piece of paper became my score card I ran in parallel that totaled the distances of planned vs actual at roughly 13 weeks or quarterly. The distance for the 52 weeks were not all equal, as I'll explain in point number 2. Double data entry is something we at Dusk Mobile actively try to reduce!
2. Planning – Put some reasonable factors in and be realistic
In my case weather and travel. Living in Melbourne, locals know how winter can be! Growing up in the UK, I was accustomed to riding in all manner of weathers but have become climatized since living in Melbourne. Cleaning the bike every day and riding along beach road with the sand, doesn't make for much fun in the rain and wind. I also had some overseas travel planned where I knew I wouldn't ride as much, if at all. Being realistic is important at this stage. I like to take Sunday off and walk, so they were excluded from planning. Therefore anything on a Sunday would be a bonus.
This looked like 44 weeks at 210km's and 8 weeks over July and August at 125km's.
3. Measure – Tracking target vs. actual weekly
I created a habit of updating my live paper document after each ride on a Saturday before I got changed from the ride. I also added a simple "Yes/No" column so I could see if I had achieved the target. Effectively a mini accountability word.
4. Measure – Use multiple forms of measurement
The Strava app has "Challenges" you can join. E.g. Gran Fondo to ride 100kms in a month or Climbing to climb more than 7250m and Distance of greater than 1250kms in a month. These were all mini monthly challenges that provide a trophy in the virtual trophy cabinet. Strava does do other challenges where a physical patch can be obtained such as the Festive500. Lots of motivation!
5. Adjust – Above or Below target
At the 6 month point, I was nearly 700kms down on my target. How did this happen? The onset of winter arrived earlier than I anticipated impacting my ability to get out and ride. I'd been sick a couple of times earlier in the flu season. I also did not ride at all while overseas, where I thought I might ride a little. Rather than get disheartened I made a few small adjustments.
6. Small Adjustments = Large Results
I've been riding with a group of men and women consistently on a Tuesday and Thursday for a few years. I'd loyally turn up there 5 minutes ahead of schedule and wait. Rather than get cold waiting those 5 minutes, I started riding around for 4 of those 5 minutes. This added an extra 2-3km's per ride. If I woke 5 minutes before my alarm, I would get up and leave 5 minutes earlier earning another 3-4km's.
This may not sound like much but equated to an additional 10-20kms during my Monday-Friday riding using just that adjustment.
The next small adjustment I made was to target 100kms regardless on a Saturday. This had the added benefit of achieving the "Gran Fondo" challenge trophy for Strava (Point #4). To do this meant getting up 30 minutes earlier on a Saturday and going out for an extra 15-20kms before I met my riding group and doing another 15-20kms after breakfast. Up from my standard 60-80kms prior to the 6 month mark.
Fight or flight….
7. You make your own luck…..
I find this term used more and more in life and is applicable when you persevere at something. One morning in September, I was riding at about 45kph with my regular group and got a puncture from a pot hole on Beach Road. It just so happened that another guy also got a puncture from the same pot hole, who stopped with his daughter and friend. From that chance encounter, I found their group rode on different days of the week but in different kit and at a different pace!
This led me to increase my riding on a Monday and Wednesday from 25kms alone along the cycle path, to 40kms along the road with a group (solving my initial dilemma of a support network).
Side Note – Credit must be given to Vic Roads here for their super prompt repair via their authorised contractor of said pot hole. I logged a request at 8am that morning through their website here, with the address, ticked "yes" to acknowledge receipt of my enquiry and "yes" to confirm once repair had been actioned. 2 personalised emails later and the work had been completed by 4pm that same day. Great work Vic Roads.
Another adjustment I made. I used to take Friday's off as I'd enjoy a few beers on a Thursday night with a group of fellow entrepreneurs, leaving my legs fresh to ride on a Saturday (self justified!). I still enjoy a few beers but now ride some Fridays which has an added health benefit.
8. Results
My total km's cycled for 2019 will be somewhere in the region of 11,000kms. This would not have been achieved without making the adjustments after reviewing my mid year km's.
My takeaway tips
Be uncomfortable.
Being knocked off my bike by a vehicle could have had far worse consequences than it did, I am still here to write this. Yes, I still struggle each time I ride but I also know I am the only person who can help myself. I'm a morning person but setting the alarm 30 minutes earlier 4 additional days a week, especially on 3 degree mornings + wind chill still isn't comfortable!
Practically, I made a few minor adjustments. Instead of waking at 5.45am on Monday, Wednesday, Friday, I changed it to 5.10am. To achieve this meant going to bed slightly earlier.
People support
Having a supportive partner, who doesn't discourage your goals but encourages them or at worst is not bothered by them. Then there are the other people around you, colleagues and friends. Most notable for me was following the puncture, suddenly I had people each day of the week I could get up and ride with. I could have asked them to hold me accountable if I struggled with motivation. Verbalise your goals with people to make it real. It then forms a conversation point as well as accountability.
Remove distractions
Some self control is needed to achieve your goals. A simple one for me was, I would always check the weather the night before. If there was a 5% or less chance of rain, I would set my alarm for 5.10am. However, I developed a bad habit of checking the weather radar in the morning when my alarm went off at 5.10am. If I saw rain on the radar that might hit before I got back, I would stay in bed for the next 30 mins.
This was not smart for many reasons. Firstly I was awake anyway. Secondly it meant I didn't get my km's in and thirdly, I was less energized for the day overall!
How do you learn and create a habit?
I learn visually. Having a yellow piece of paper taped to the wall that is slowly coming to life motivated me. It doesn't have to be paper but products like Trello also do a great job.
Creating a habit can often be the hardest part to achieving a goal. Plenty of books have been written on this and in my opinion is the most overlooked part of setting a goal. Charles Duhigg has a great book called the Power of Habit.
Happy to answer any questions people may have. Otherwise go forth and achieve your goals, you might surprise yourself!