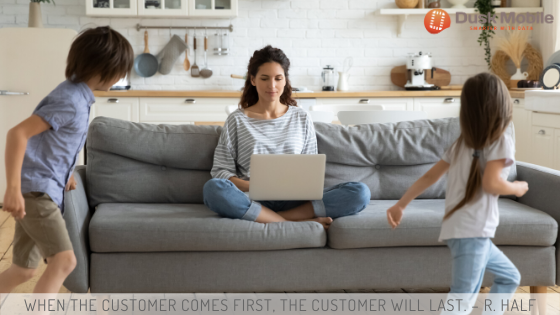 The Changing Landscape of Customer Experience
The last couple of months have transformed life as we once knew it for all of us. Your customers are in a very different place as a consequence of potentially different factors, both in your control as and out of your control as a leader.
Business models that were heavily reliant on foot traffic with physical premises and volume of customers underpinning their business have been hit particularly hard. Those businesses with an online presence or mobility in their model, have fared slightly better but we are still in the early days of this pandemic.
So as a leader, what can you do today to be there for your customers and emerge into the, as yet, unknown with those customers in the months and years ahead?
This week I take a look at 4 areas that are worth exploring further but prefaced with one overarching guide, showing care for your existing and new customers. In my opinion customer care, more than ever before will be the be all and end all for businesses in this current climate. Furthermore, care now includes compassion. Treading carefully and being there for your customers is the name of the game.
As a customer, I'm pleased to see how many organisations have done this to date with immediate financial relief, either temporarily or permanently.
1. Revisit your customer journey
Without wanting to state the obvious, this should be the starting point. Even if your business has experienced minimal disruption so far, it may not be immune to future events so being on the front foot is worthwhile. Where do your customers need to come in from now and how can you help them get to where they need to go? What additional support do they need and how can your business provide that?
2. Inject the human element
There are a multitude of technologies available today for communication to connect with your customers. These technologies have increasingly grown to provide a more "human" element to interactions. Whether it is video calling or well structured chat mechanisms and some underlying artificial intelligence (AI) with quick exits to real people in the event of a journey not being able to be completed.
3. Be where your customers are
As at today, restricted movement is front of mind for your customers. The freedom to visit your business is likely not there currently but just because the world has stopped moving, doesn't mean your customers lives have completely stopped. Can your business offer a pickup/delivery service from their home? This may have been a niche, non-starter idea 3 months ago but could be the lifeblood today. Consider ways to make your customers lives easier and integrate to take pressure away.
Physical touch should be considered and with this model and introducing hygiene and education into the process, while working within the regulations.
4. Prepare for a new world
The term "rip the bandaid off" has never been more real than it is today for embracing technology as a way of life. There are those who feel this is a phase that will pass eventually and those that believe this is here to stay in some form. As a business leader, I would prepare for the latter.
Even if life permits us to return to a setup similar to that of months ago, not everyone will want to. Your customers will be more comfortable staying online, shopping locally and avoiding large crowded areas. Being prepared for this with a robust online channel for your business is going to be a key medium moving forward
If done successfully, your business will be remembered for the right reasons by your customers, as a caring compassionate proactive organisation from this time but also in the years ahead.
Takeaway Tip
Collaboration in your organisation can start today with a tactical but strategically scalable solution, the Intelligent Operations Platform (IOP) from Dusk Mobile. The IOP is an industry leading collaborative work management platform. It connects your staff on any device, any time and in any location. Integrate your favourite products quickly and easily for real time collaboration amongst your teams.
Automating work functions and delivering a connected experience has never been easier and achieving productivity improvements can start tomorrow.
A great Field Services Management (FSM) software solution that includes a Program management tool, provides you with an easy way to build automation into your daily work management processes. The creation and management of these should always be via a user-friendly (and 'No Code') interface – allowing your business users to maintain and evolve the automation without the need for additional IT or development costs.
Avoid solutions that increase support overheads on your IT department to maintain them, or (worse still) embed a dependency on the provider to deliver ongoing additional professional services to continue servicing your evolving needs'.
So how do you get started? Speak to the team at Dusk about our experience in delivering our collaborative work management SaaS solution to your business. Using bite size deliverables and incremental change, your business can transform progressively. Clean, secure integration with a polished user interface to design and build your baseline quickly.
This leads to improved productivity and visibility for your workforce. Connect to your existing systems to create an all of customer view that can be shared between all authorised parties.
If you'd like to find out more on visibility, consistent messaging, workflows, automation with project management and easy integration for your teams or business, get in touch today with our friendly team.
Any questions, our community is here to help in the Support & Updates area!
Try a 30 day free trial of our Intelligent Operations Platform and start seeing the benefits of automated workflows, informed decision making and a single, comprehensive view of your business in real time. Start collaborating today.
Start your free trial today
Not sure where to start? Request a demo from our team via the link:
Request a Demo
Or you just have some questions:
Email: mobile @ duskmobile.com
Phone: +61 (0)3 9071 0333
References
Customer Experience in the time of Coronavirus