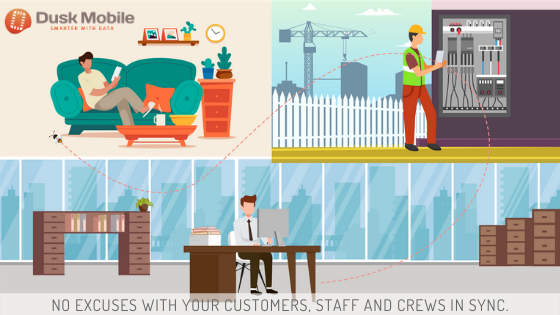 Successful Jeopardy Management & Workflows
By now most of us are into the remote working rhythm and in some cases could have been working in this setup for months or years before. As a remote worker, your job role and the need to deliver a great experience for your customer likely hasn't changed much though. The primary difference is you and your team are just in different locations and perhaps not by choice!
This leads me into this weeks blog post, Jeopardy Management and Workflows.
Jeopardy Management comes into play with managing risk from projects through to your customers. To manage this successfully requires follow ups, multiple communications, different systems, validation, quality control and even escalations. Achieving this in a remote working environment is made all the more challenging.
Working in close proximity to your team or receiving less digital communication was the world we lived in just a few months back. Standing up to call over a partition, a phone call, a friendly reminder over coffee or a chat at the water fountain all moved the workflow along keeping your teams and customers happy.
Working remotely with a largely digital channel, your communication arrives via chat, email, voice, sms, video, notifications and more. This means that with an abundance of communication mediums, it results in actions being missed at best but now includes SLA's being breached, KPI's not being met and risks increasing.
So what can be done to continuously deliver and cut through the digital noise and jeopardy manage successfully?
To address this, a flexible workflow tool can assist greatly. A workflow tool provides capability to introduce automated rule based communication to anyone from your internal teams to your customers. When choosing a Workflow tool, being able to build workflows to cater for complex scenarios is important but must be usable as a business user.
Real Example 1:
Customers with Urgent or High priority appointments are captured by colour in the Dusk Mobile Intelligent Operations Platform. However, this is only a reactive measure so the IOP has the ability to set alerts and notifications as these thresholds are nearing. One customer has configured date and time information from one of four forms completed in the field for a task, to notify office based staff member and the crew lead of the impending deadline if it as risk of breaching. This was straight forward to setup and delivers significant value to their business.
Workflows can be used in different scenarios and another one that has benefited from being built is approvals/rejections. Various core systems have some level of workflow but being able to workflow between different core systems information that resides outisde of core systems has become more of a priority in the last few months. This has driven collaborative work management to a new level and has seen us a software company deliver some truly innovative functionality in this area.
Real Example 2:
One of our customers requires quotes above a certain level to be sent to the CFO for sign off before they are sent out. Using the Workflow Builder, they elimnated the roadblock of just emailing the CFO and chasing it up. By adding the CFO into the Workflow, once the CFO has approved (or rejected) the quote, the sender receives a notificaiton of the decision. Productivity has improved by over 12% by just implementing this feature alone.
Here at Dusk Mobile, we've invested heavily in building the right tools for our customers by working closely with those on free trials and our paid subscribers. Our Workflow Automation module here, has a Workflow Builder that allows any user to automate functions within the IOP by creating their own custom workflows.
Our drag "n" drop Workflow Builder intuitively helps you choose your data sources, apply the conditions, exceptions and medium for communication. It's that straight forward to create rule based actions ensuring a consistent approach in the remote work environment to jeopardy manage successfully, allowing you to deliver great customer service through timely management of communication.
Takeaway Tip
Collaboration in your organisation can start today with a tactical but strategically scalable solution, the Intelligent Operations Platform (IOP) from Dusk Mobile. The IOP is an industry leading collaborative work management platform. It connects your staff on any device, any time and in any location. Integrate your favourite products quickly and easily for real time collaboration amongst your teams.
Automating work functions and delivering a connected experience has never been easier and achieving productivity improvements can start tomorrow.
A great Field Services Management (FSM) software solution that includes a Program management tool, provides you with an easy way to build automation into your daily work management processes. The creation and management of these should always be via a user-friendly (and 'No Code') interface – allowing your business users to maintain and evolve the automation without the need for additional IT or development costs.
Avoid solutions that increase support overheads on your IT department to maintain them, or (worse still) embed a dependency on the provider to deliver ongoing additional professional services to continue servicing your evolving needs'.
So how do you get started? Speak to the team at Dusk about our experience in delivering our collaborative work management SaaS solution to your business. Using bite size deliverables and incremental change, your business can transform progressively. Clean, secure integration with a polished user interface to design and build your baseline quickly.
This leads to improved productivity and visibility for your workforce. Connect to your existing systems to create an all of customer view that can be shared between all authorised parties.
If you'd like to find out more on visibility, consistent messaging, workflows, automation with project management and easy integration for your teams or business, get in touch today with our friendly team.
Any questions, our community is here to help in the Support & Updates area!
Try a 30 day free trial of our Intelligent Operations Platform and start seeing the benefits of automated workflows, informed decision making and a single, comprehensive view of your business in real time. Start collaborating today.
Start your free trial today
Not sure where to start? Request a demo from our team via the link:
Request a Demo
Or you just have some questions:
Email: mobile @ duskmobile.com
Phone: +61 (0)3 9071 0333