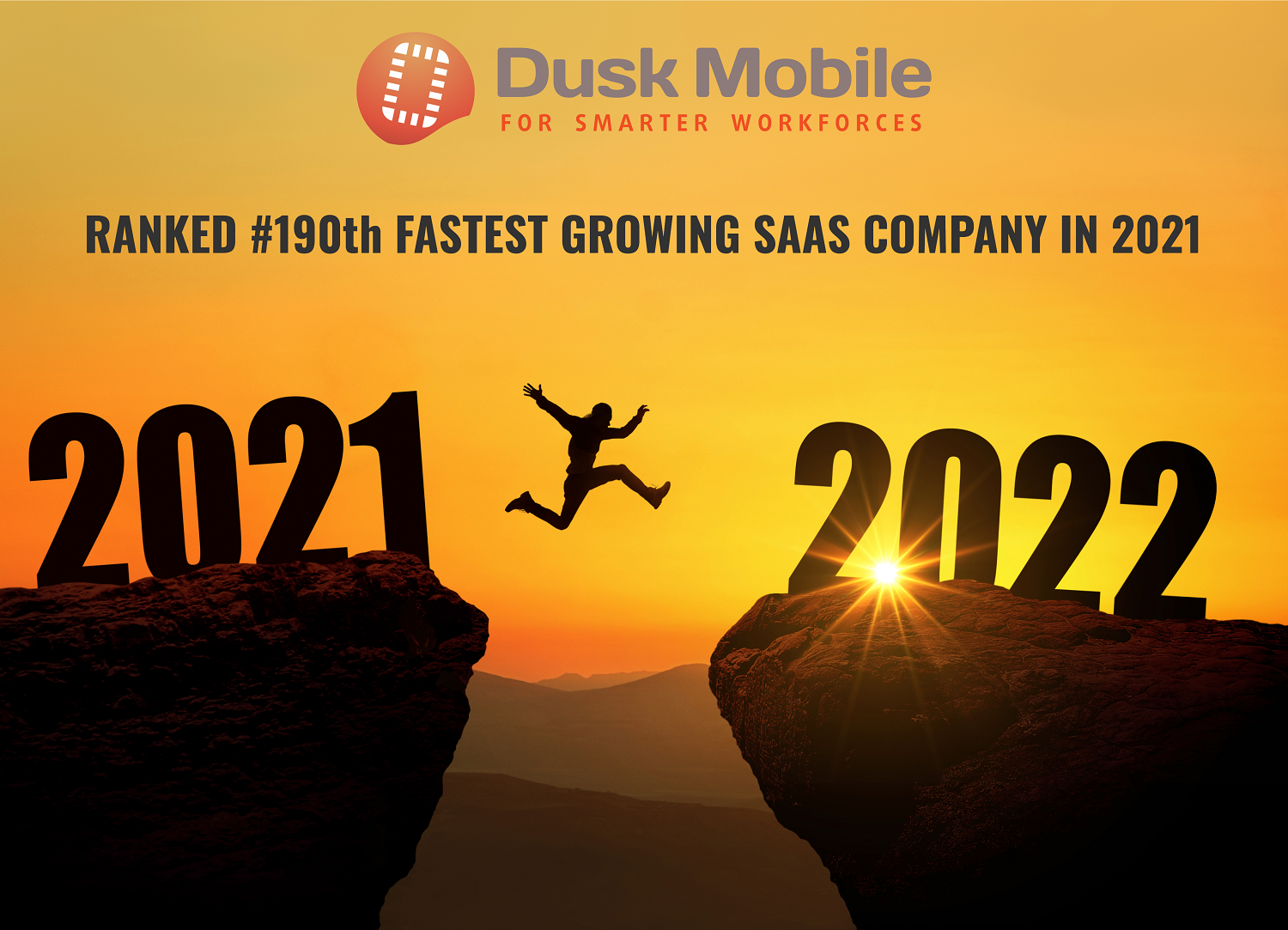 Dusk Mobile ranked in the Top 500 Fastest Growing SaaS Company's by Latka
Dusk Mobile is pleased to announce we've been ranked in the top 500 fastest growing SaaS company's of 2021.
2021 was a rough year for most, here are 3 key things we accomplished:
Workflows for Sales Orders including Quotes, Invoices, Purchase Orders and RFP's

Integrations to even more of our customers favourite finance and CRM products

Equipment management and servicing
Despite the challenges, we submitted our revenue growth data to Latka for the annual Latka500: The fastest growing SaaS companies of 2021. 
18,047 founders submitted data for 2021 meaning just 2.7% made the top 500. 
We're excited to share that  Dusk Mobile ranked 190th with revenue growth of 166%. This growth wouldn't have been possible without all of the product feedback and support from our many loyal customers. 
We plan to share some exciting new releases with you in 2022, including:
Complex Jobs that show resource conflicts including tasks, sub tasks and dependencies

Long range forecasting of twelve months and more for capacity management across resources and skills

Continued international expansion, including our new partner program
While the number of SaaS companies continues to grow, we expect to continue rapid growth this year. 
In total, Latka500 SaaS companies did $13 billion in combined 2021 revenues (up from $8 billion in 2020) and have raised a total of $35 billion. 128 bootstrapped SaaS founders made the list with combined revenues of $1.3 billion. 
You can see the full rankings here.
We're in good company as you can see. 
As always, it's thanks to our many loyal customers around the world who play a vital role in helping us grow and rank among the best SaaS companies in the world. We're committed to our mission of delivering an industry leading platform that empowers leaders and teams to focus on what matters.
We supply our industry leading Dusk IOP for smart workforce management to rapidly prototype digitization of workforce processes and expand them at their own pace using a no-code approach. The Dusk IOP enables customers, suppliers, office and field staff to work seamlessly together on projects and jobs. Configurable by business user teams to easily retrieve data from core systems. Then plan, schedule and automate workforce actions in real time.
We look forward to welcoming new customers to the Dusk Mobile family and continuing to work closely with our valued existing customers both in Australia and now globally.
Dusk Mobile is a supplier to public sector and private organisations who have distributed workforces, helping them to realise the benefits of automation, optimisation and visibility.
Try a 14 day free trial of our Intelligent Operations Platform and start seeing the benefits of automated workflows, informed decision making and a single, comprehensive view of your business in real time. Start collaborating today.
Start your free trial today
Not sure where to start? Request a demo from our team via the link:
Request a Demo
Or you just have some questions:
Email: mobile @ duskmobile.com
Phone: +61 (0)3 8679 2208