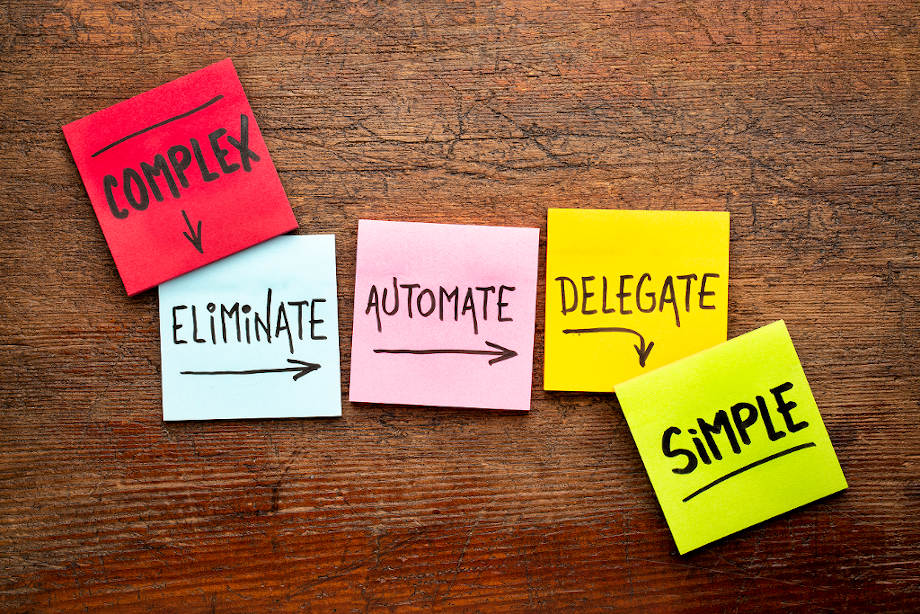 How automation can help you as Project Manager
This week we look at how 'No Code' automation can help you as a Project Manager or Program Manager.
One of the challenges in an overarching senior role is keeping abreast of the many moving parts of the project to ensure an on time, on budget and in scope delivery.
There are many key (planned and unplanned) activities that require your time in person – such as the multitude of meetings in the office, on site or phone conferences – all of which take you away from the day to day management of the project. Depending on the size of the project, you may have a Project Management Office (PMO) and administrative staff to assist your role. Notwithstanding this support, an abundance of processing still exists that can be automated to improve efficiency, and reduce project delays.
So how can automation assist you in the tasks that consume time?
To quote Mckinsey: We estimate, that for 60% of existing US jobs, 30% or more of current work activities can be automated with available or announced technologies. In other words, for the majority of US jobs, a day and a half's worth of activities in each work week can be automated.
Workflows
Many examples exist of manual approvals such as expense reporting, time sheet and leave processing to name a few. A workflow builder delivered by a 'No Code' WYSIWYG editor, enables your project team to get started with setting up automated decisions and processes quickly and easily. Approvals can be automatically processed or referred based on conditions. Any condition such as spend thresholds or duration of leave – if exceeded – can trigger an alert, or be referred for manual intervention. Due to the fact the editor requires no coding skills at all to create and manage these automations, establishing these rules doesn't require IT support, and the ongoing maintenance and evolution of these can be easile handled by the PMO – or any business user.
In modern, connected solutions, the data points for these conditions, and even the manual approvals don't have to reside in the same platform as the workflow builder. With connectivity available to source systems via API's, an automated process can be triggered from data in a solution like SAP and approved or referred by a workflow builder back into SAP.
Reminders or alerts for tasks – such as weekly time sheeting – can also be automated if the completion hasn't been logged by a certain time. Here's an example of how a WYSIWYG editor can be used to build a simple payment approval workflow.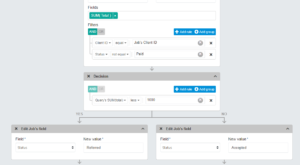 Issues, Risks, Actions and Change Requests
From week one of a project, the registers are established for capturing Issues, risks, actions and change requests. While critical to the success of the project, the management of these can consume large swathes of time.
Whether these are raised by you as the Project Manager or just need to be managed, they have elements that can be automated. For example: once an issue is captured, it is automatically tied to a task with an owner. Each issue can be established to have its own chronological history, due date and reminders. Even dependencies can be incorporated to ensure that those roles or teams surrounding the issue are aware of the requirement, and automated actions set up to alert impacted parties when these have been completed – or if not competed by a designated milestone.
Gone are the days of having compliance or progress hinge on a single line item, on a meeting agenda template that needs to be updated daily or weekly, followed by phone calls and emails to chase up on progress.
Here's an example of a high priority risk and how it can be managed by the inclusion of detailed information, and the automated addition of the relevant owner. A range of actions (such as alerting impacted parties, notification of dependant processes etc.) can be automated from the logging of this single risk.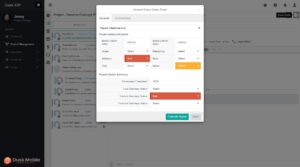 Dynamically Building Projects
Based on the size of the project, the creation of a project schedule can run into days or even weeks. This is all cost and eats into the ROI of the project. Using a previously built project schedule (either from within the system, or as an imported .CSV or MS project file), it can be imported in seconds and saved as a template. This template then automatically creates your next project schedule, which can then tweaked accordingly.
The benefits of being able to easily replicate a project schedule that has been tried and tested are significant. Beyond the simplicity, and accessibility, is the reduction in licensing costs for project management software and version controlling project schedules.
An example of how you can get started in bringing across your existing project schedules on your journey to cloud success.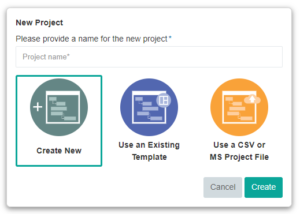 Reporting & Dashboards
Without wanting to take away from the smarts behind some cleverly produced Project Management Excel-based dashboards (and I've been fortunate to have been on some complex and successful projects that developed and utilised them), they do have their limitations. There is a large manual overhead to maintain the numbers that the overall financial health of the project is calculated from. Often this document will exist in different versions with Team Leaders needing to update their sections periodically, and many take a fairly advanced level of knowledge to maintain.
Most of this can be automated. As billables hit the project from labour and materials, these can be reflected in the dashboard automatically. A manual approval step can be introduced (if needed) by connecting a workflow to this but the power and efficiency comes from trusting the system and the 'source of truth'. The project health data can then easily be reflected in tabular or graphical form for easy visualisation during meetings, and these can be accessed from any device, at any time… in real time.
A common theme in customer requirements is the need to manage budgeting 'end to end' – with the associated approvals, templates and completed documents all accessible from a single system. Some of these need to remain in external sources of truth such as document repositories, however they can all be linked out automatically from a collaborative work management platform. Using your Microsoft O365 organisation login credentials, easy access is provided to authorised parties.
Takeaway Tip 
A great Program management tool will provide a customer with an easy way to build automation into their daily work management processes. The creation and management of these should always be via a user-friendly (and 'No Code') interface – allowing the business users to maintain and evolve the automation without the need for additional IT or development costs.
Avoid solutions that increase support overheads on your IT department to maintain them, or (worse still) embed a dependency on the provider to deliver ongoing additional professional services to continue servicing your evolving needs'.
So how do you get started? Speak to the team at Dusk about our experience in delivering our collaborative work management SaaS solution to your business. Using bite size deliverables and incremental change, your business can transform progressively. Clean, secure integration with a polished user interface to design and build your baseline quickly.
This leads to improved productivity and visibility for your workforce. Connect to your existing systems to create an all of customer view that can be shared between all authorised parties.
The Dusk Mobile Intelligent Operations Platform is an industry leading collaborative work management platform. It connects your staff on any device, any time and in any location. Integrate your favourite products quickly and easily for real time collaboration amongst your teams.
Automating work functions and delivering a connected experience has never been easier and achieving productivity improvements can start tomorrow.
If you'd like to find out more on visibility, consistent messaging, workflows, automation with project management and easy integration for your teams or business, get in touch today with our friendly team.
Any questions: Our community is here to help in the Support & Updates area!
References
Mckinsey – Automating Your Daily Tasks
Try a 30 day free trial of our Intelligent Operations Platform and start seeing the benefits of automated workflows, informed decision making and a single, comprehensive view of your business in real time. Start collaborating today.
Start your free trial today
Not sure where to start? Request a demo from our team via the link:
Request a Demo
Or you just have some questions:
Email: mobile @ duskmobile.com
Phone: +61 (0)3 9071 0333