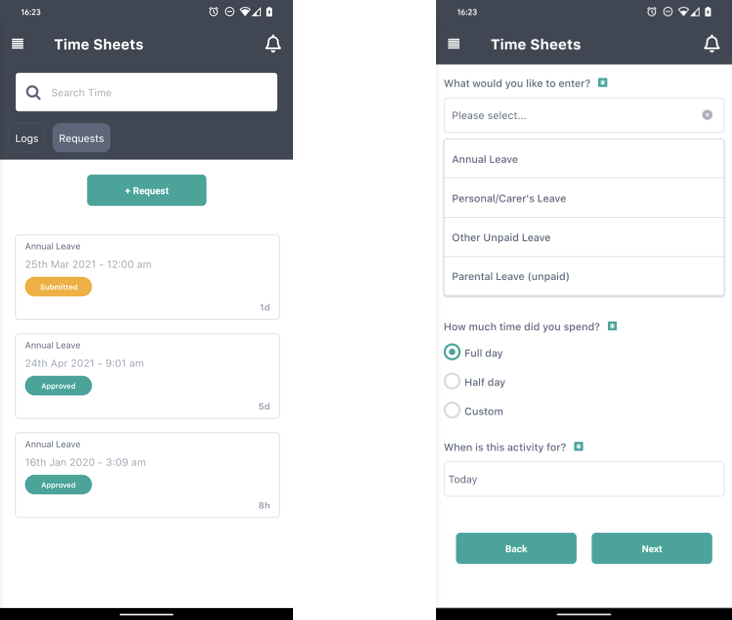 How to get started with enabling your field resources affordably with timesheets
Moving to a digital work management process can seem daunting and full of questions. Which process do you start with? Will the platform fit your process? How will you train and support your teams? What's the best way to allay concerns or fears from your teams? What if there are ROI doesn't payback as planned? What devices do I buy or allow my teams to use? And many more!
Starting small with timsheets is an alternate approach to mitigate risk. Beyond running a pilot, starting with a straightforward process that involves everyone in your business, yields results quickly and with payback. Introducing, timesheet capture.
Time is money, so the adage goes. Understanding where resource time is being spent is the lifeblood of business. Here we take a staged approach that transforms progressively and in a cost effective way.
More information from a previous post on a taking a staged approach or big bang can be found here: Progressively Introduce Change
The first step
Timesheets are one of the easiest and most valuable ways to introduce your resources to app data capture.
Leave requests from an app, which may sound basic, delivers a lot of value. Whether full time, part time, casual or contract, your resources all have availability restrictions. Perhaps they undertake training for their role, have Rostered Days Off (RDO's), or just need to submit leave types such as Annual Leave, Carers Leave or Parental Leave.
Benefits for Resources with Timesheets
The value with resources managing their own leave requests is wide reaching, with benefits including:
Empowering them to manage their availability from anywhere
Planning a holiday with their family, they can submit the request from home
Feeling unwell, they can take care of all of it straight after the fact
They don't need to call into the office or have someone else manage it in HR or Payroll, via email or phone call.
Requests are not missed or lost along the way
There may be peripheral activities that require a high admin overhead that are associated with timesheets. For example, paying km's, expenses and other allowances. This self-service approach via an app with their management approving the workflow helps consolidate functions.
This eases digital change into your workforce with minimal room for error and plenty of support around your resources.
Benefits for Planners & Schedulers with Timesheets
Further value is gained in the office with resource visibility, as it allows anyone in your Planning and Scheduling function to see who is available at a given time.
A lot of planning functions don't have visibility into current resource availability. Planners and Schedulers often work from outdated data for reasons including:
Your HR software is different to your planning tool
Part digital such as a spreadsheet vs. paper
Whiteboards are the source of truth
Located in different offices geographically
Re-planning is undertaken more often than a lot of business users realise and if it isn't easy to see who is available, the process breaks and improvising takes place with alternate methods!
The second step
After timesheets are bedded down, you're ready to move onto capturing information at the job level, again centered on time. Your resources or crews may time confirm to customers and contracts. If you provide your customers with a cost to perform tasks, when was that cost model last reviewed and could it vary based on external factors?
We see many historical cost models that were not designed based on actual data, especially field based functions. The primary reason being that digital field data capture wasn't in use and it was based on someone going out and coming back with the work completed. The completion of work may be solved by putting additional resources on the task or paying overtime. With those additional resources and overtime, if this isn't captured centrally, the costs can't be fed into your model.
The easiest way to address this is to progress into Start/Stop or Check In/Check Out capability. This is less about looking to complete the task faster and more about the high likelihood that the task takes longer than has been budgeted for.
Worst case, if you've quoted your customer a fixed cost to perform the work based on your historical guide, you're losing money!
The third step
Moving beyond time and into materials via job dispatch
What materials, equipment or assets were used? This needs to be quick and intuitive in the language of those that need to enter the information. Uncleansed data doesn't help anyone. Consider conditional logic on your fields to continually reduce the available information and make your resources lives easier.
Data is the new oil as the saying goes. Your models can be optimised as you gather more current data, driving profitability and utilisation.
The end game
The final stage is rolling out the full workforce management solution, providing your resources with all the information to complete their work. From documents, to materials listing and location information plus the ability to complete all this in the field.
No more hold up's in the office waiting for print outs, large colour ink bills, duplicate data entry or unnecessary visits. For those resources that can start from home, they are empowered to do so.
Continuing the momentum
Regularly review the information required by holding working groups with your resources in the office and field. In the commercial sense, this is through Monthly or Quarterly Business Reviews but actively gathering this information from your resources 1:1 including "on the job" observation helps deliver continuous improvement.
Takeaway Tip
IOP is about accessibility for all. If you're using MS Excel or paper to manage a process, see how easy it is to put into IOP and then deliver value.
Collaboration in your organisation can start today with a tactical but strategically scalable solution, such as the Intelligent Operations Platform (IOP) from Dusk Mobile. For breaking down silos, the IOP is an industry leading workforce management platform. It connects your staff on any device, any time and in any location. Integrate your favourite products quickly and easily for real time collaboration amongst your teams.
Automating work functions and delivering a connected experience has never been easier and achieving productivity improvements can start tomorrow. The creation and management of your business should be via a user-friendly 'No Code' – allowing your business users to maintain and evolve the digitization without the need for additional IT or development costs.
Avoid solutions that increase support overheads on your IT department to maintain them, or (worse still) embed a dependency on the provider to deliver ongoing additional professional services to continue servicing your evolving needs. This leads to improved productivity and visibility for your workforce.
So how do you get started? Speak to the team at Dusk about our experience in delivering dynamic workforce management software to your business. Using bite size deliverables and incremental change, your business can transform progressively. Clean, secure integration with a polished user interface to design and build your baseline quickly.
If you'd like to find out more on visibility, consistent messaging, workflows, automation with project management and easy integration for your teams or business, get in touch today with our friendly team.
Any questions, our community is here to help in the Support & Updates area!
Try a 30 day free trial of our Intelligent Operations Platform and start seeing the benefits of automated workflows, informed decision making and a single, comprehensive view of your business in real time. Start collaborating today.
Start your free trial today
Not sure where to start? Request a demo from our team via the button:
Request a Demo
Or you just have some questions:
Email: mobile @ duskmobile.com
Phone: 03 8679 2208
Other posts you may find useful:
Tactical but Strategic – Progressively introduce technology change to your office teams and field crews
5 benefits of accessing your information from one data platform
3 areas to introduce and maintain collaboration in your workplace