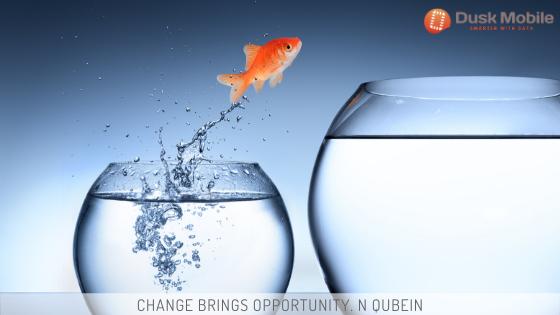 Tactical but Strategic – Progressively introduce technology change to your office teams and field crews
This week I take a look at how to progressively introduce technology change to your office teams and field crews.
Many of us have heard of "phased approach" or "big bang" with launching of software projects. For those that haven't, a phased approach being incrementally introducing change e.g. one region at a time, one depot at a time, one shift at time, even one business unit or business process at a time. There are many ways to do it and numerous benefits in doing so.
The big bang approach is centered around a point in time and using that to differentiate between the old world and the new world. This could be actual time, e.g. June 30, month end, contract termination or commencement amongst others. The idea is everyone involved gets onboard at the same time. There are many benefits to this approach also.
One of the big challenges with digitization and the introduction of new technology, is the step change from the as is, through to the, to be. Bridging this divide is critical to success of the project.
So how do you approach change management when introducing new technology?
Here are the 3 most common scenarios that consideration should be given to:
Are you digitizing a new process that was previously paper? E.g. forms
Are you digitizing a net new process where previously there was nothing? e.g. newly awarded project
Are you digitizing a previously digitized solution on legacy hardware or software? E.g. system change
Based on the familiarity of your teams with technology change, one option is to progressively introduce change. So, I'm going to explore the most common of those 3 scenarios, number 1, digitizing a paper process. Using an incremental approach to achieve a consistent baseline can de-risk a project.
Here's some best practice suggestions on ensuring success:
Gather the facts – Who is doing what, how are they doing it and why are they doing it?
Engage and Analyse the gathered facts – Work with business Subject Matter Experts and process analysts
Workshops (virtual or physical) to shadow the role – Lots of information can be found from observation.
Change familiarity – does your organisation have a track record of successful change management or a strong relationship with a 3rd party who do?
Technology – does your nominated vendor provide a means to deliver in an incremental approach?
Time to make change – How long do you have to make the change?
Whether you have 5 locations or 50 locations, the chances are that the same process is conducted differently somewhere between them. This could be as simple as different colours between internal staff, external staff and equipment. Or it could be more complex with some teams using bespoke spreadsheets, whereas others are using paper or any other means (including chalk board, whiteboard or verbal).
Trying to bring together the same underlying business process into a consistent technology platform via these differences can introduce un-necessary risk to the overall success of the project. I'd go as far as saying, I have seen many of these types of projects fail or not deliver the full anticipated benefits, as some locations can't or won't come onboard.
So, what can you do about this?
This is quite common and led the team at Dusk Mobile to develop some core functionality into our Intelligent Operations Platform (IOP). IOP provides for incremental change but at the same time provides a strategically scalable platform, to run your operations from. If your Change Management team start by introducing a consistent baseline technology to start with e.g. spreadsheets. This introduces familiarity to your teams and has them singing from the same hymn sheet. Same colours, names, look and feel, just consistent.
This approach does add time to a digital transformation journey but increases the likelihood of success. If you're already using consistent spreadsheets, proceed straight to the next section!
From this newly achieved baseline, these spreadsheets can be easily imported and replicated in IOP.
This takes your teams on a journey and the easy to use functionality can be applied both within your business and across your customers and suppliers. If you've got teams who receive daily spreadsheets from customers, discuss with those customers on having them upload the spreadsheets directly to IOP and the work automatically appear for your teams ready for planning. This can be used for MS Project files and can even be automated with the workflow module in IOP! Collaboration at its finest….
The final stage is full integration and automation between customers, suppliers, office and field staff.
Takeaway Tip
Collaboration in your organisation can start today with a tactical but strategically scalable solution, the Intelligent Operations Platform (IOP) from Dusk Mobile. The IOP is an industry leading collaborative work management platform. It connects your staff on any device, any time and in any location. Integrate your favourite products quickly and easily for real time collaboration amongst your teams.
Automating work functions and delivering a connected experience has never been easier and achieving productivity improvements can start tomorrow.
A great Field Services Management (FSM) software solution that includes a Program management tool, provides you with an easy way to build automation into your daily work management processes. The creation and management of these should always be via a user-friendly (and 'No Code') interface – allowing your business users to maintain and evolve the automation without the need for additional IT or development costs.
Avoid solutions that increase support overheads on your IT department to maintain them, or (worse still) embed a dependency on the provider to deliver ongoing additional professional services to continue servicing your evolving needs'.
So how do you get started? Speak to the team at Dusk about our experience in delivering our collaborative work management SaaS solution to your business. Using bite size deliverables and incremental change, your business can transform progressively. Clean, secure integration with a polished user interface to design and build your baseline quickly.
This leads to improved productivity and visibility for your workforce. Connect to your existing systems to create an all of customer view that can be shared between all authorised parties.
If you'd like to find out more on visibility, consistent messaging, workflows, automation with project management and easy integration for your teams or business, get in touch today with our friendly team.
Any questions, our community is here to help in the Support & Updates area!
Try a 30 day free trial of our Intelligent Operations Platform and start seeing the benefits of automated workflows, informed decision making and a single, comprehensive view of your business in real time. Start collaborating today.
Start your free trial today
Not sure where to start? Request a demo from our team via the link:
Request a Demo
Or you just have some questions:
Email: mobile @ duskmobile.com
Phone: +61 (0)3 9071 0333
Other posts you may find useful:
The benefits of introducing a no code time sheeting solution to your organisation
Getting started with smart operational contract management