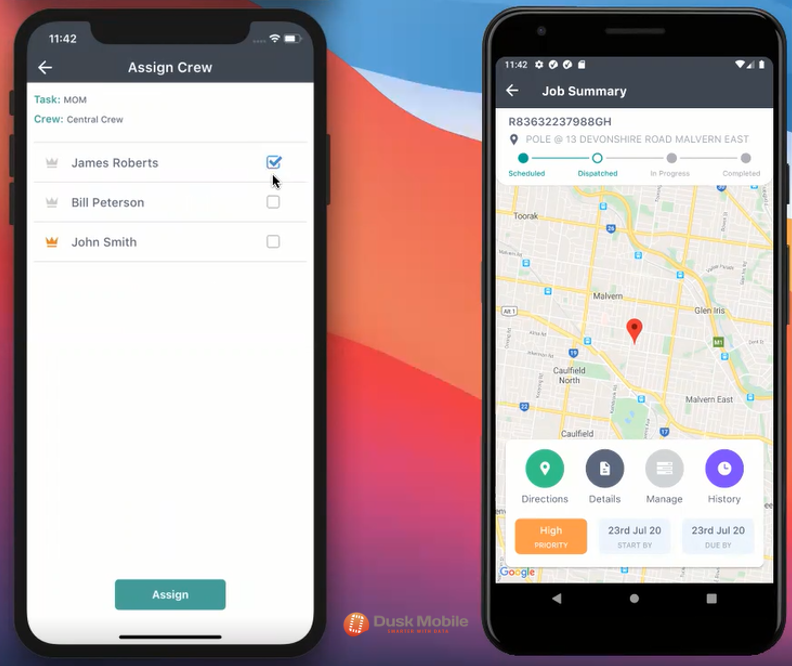 Introducing Socially Distant Productivity Upgrades: Field Crew Work in the New Normal
Product Announcement – July 2020
Coordinating your field work both within crews and between crews requires them having the right information in real time. This used to be much easier before the events of 2020 and the "new normal" that has since emerged, with the need to social distance from one another.
While cloud based products have been on the market for years that have allowed Planners and Dispatchers the ability to socially distance by continuing their work remotely, this hasn't been a priority or even a requirement for your field crews to be socially distant.
Your field crews have historically worked in close proximity physically on their tasks and also with technology. This came about for many reasons including budget for hardware, crew lead vs crew members needing hardware or even just by choice of the crew members. This presents a challenge now in the new world of social distancing.
So what did we do about this?
Our team sat with several customers and discussed the current challenge, industry requirements, Government recommendations and how we could address all of them through our Intelligent Operations Platform (IOP) workforce management suite.
Today we're pleased to announce the launch of our productivity upgrades within IOP web and also the IOP mobile app for both the Field Services Management module here and the Mobility and Forms module here, to ensure a safe socially distant field work environment.
This brand new functionality allows your Planners and Crews much more automonomy to easily assign tasks and build workflows with rules.
Lets take a closer look:
Real time smart Task Assignment from the office or the field
In many cases, tasks were assigned to a crew by the Works Planner ahead of dispatch and a Crew Lead co-ordinated the completion of them in the field through a shared device or paper and pen.
We've introduced a new safer and compliant way of working. With the crew being distributed and the importance of knowing when a Task has been completed, Tasks can have Dependencies including Start to Start, Start to Finish, Finish to Finish and Finsh to Start. This prevents Tasks being started by one Crew Member without another Crew Member completing their work
Tasks can be assigned to Crew Members by the planner at the job creation stage. A copy of the job is sent to each Crew Members device. These tasks can also be sent unassigned by the Planner and allocated in the field to the Crew Members with the Crew Member only being able to access their task for completion. As these tasks are completed, the updates are reflected back on the Crew Lead's device.
Figure 1 – Real time smart Task Assignment from the office or the field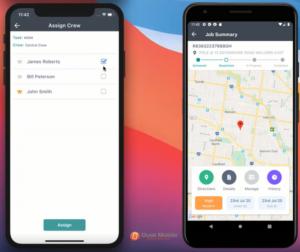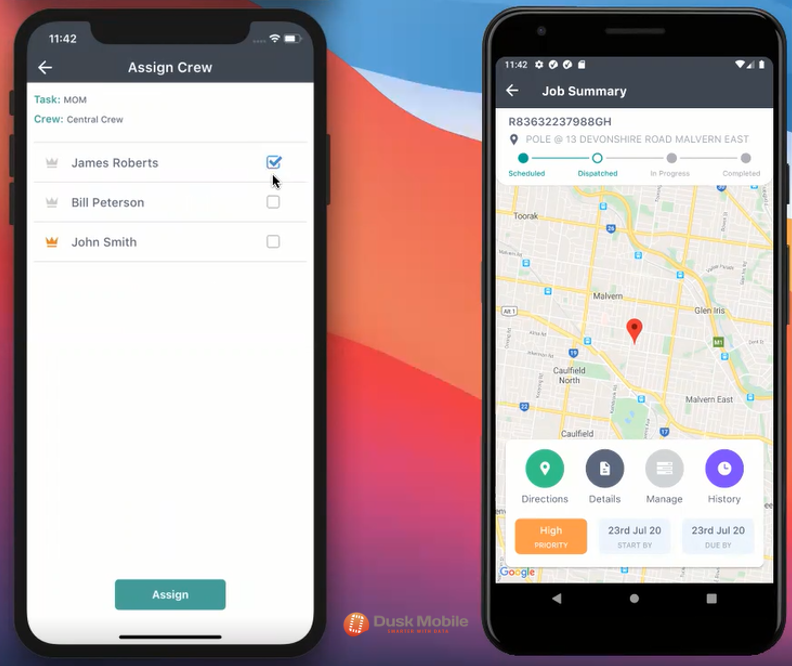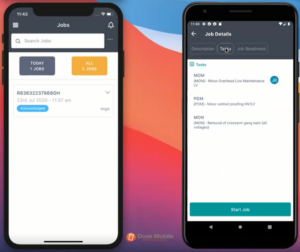 Individual but collective Job Safety and Environment Analysis (JSEA) completion
JSEA's were completed collectively by the crew in the field with all Crew Members signing the same device to acknowledge, before it is locked away. Or perhaps still on paper in some cases.
We've now provided the capability for each crew member to sign their JSEA from their own device, which rolls up to a collective crew JSEA. The JSEA can also be read out loud with Crew Members signing if they agree or completely collaboratively from their own device.
See how this could work for your organisation with a trial here
Figure 2 – Individual but collective Job Safety and Environment Analysis (JSEA) completion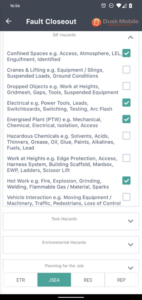 Socially Distant JSEA
Same job, multiple devices
Your crews quite likely will have historically shared a smart device to complete their work. Job Dispatch was previously sent to one device with the Crew Lead co-ordinating the completion of the work and the device passed around as required. The new challenge here is hygeine driven by passing a device around and furthermore by crew members needing to be in frequent close proximity to each other, to physically pass the device.
Now with socially distant work, jobs are dispatched to all members of the same crew with a different version going to the designated Crew Lead, who has permissions to administer the job to his or her Crew Members. Crew Members have permission to complete only their assigned Tasks and have Read Only access to the other Job Tasks.
Figure 3 – Same job, multiple devices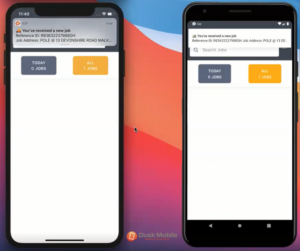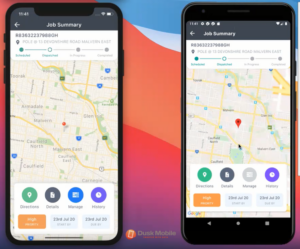 Greater detail, greater opportunity
We've taken the opportunity to utilise this more granular method of Task assignment within crews to introduce our new intra day routing functionality. Previously if your Crew Members were working on multiple Jobs in a day, they would navigate manually between them. Now, the IOP mobile app shows your crew members the best way to move between Tasks within Jobs. Moving beyond just Job Routing and into the Tasks underneath the Job with a clean easy to use interface.
Figure 3 – Greater detail, greater opportunity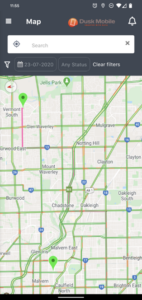 Takeaway Tip
Collaboration in your organisation can start today with a tactical but strategically scalable solution, the Intelligent Operations Platform (IOP) from Dusk Mobile. The IOP is an industry leading collaborative work management platform. It connects your staff on any device, any time and in any location. Integrate your favourite products quickly and easily for real time collaboration amongst your teams.
Automating work functions and delivering a connected experience has never been easier and achieving productivity improvements can start tomorrow.
A great Field Services Management (FSM) software solution that includes a Program management tool, provides you with an easy way to build automation into your daily work management processes. The creation and management of these should always be via a user-friendly (and 'No Code') interface – allowing your business users to maintain and evolve the automation without the need for additional IT or development costs.
Avoid solutions that increase support overheads on your IT department to maintain them, or (worse still) embed a dependency on the provider to deliver ongoing additional professional services to continue servicing your evolving needs'.
So how do you get started? Speak to the team at Dusk about our experience in delivering our collaborative work management SaaS solution to your business. Using bite size deliverables and incremental change, your business can transform progressively. Clean, secure integration with a polished user interface to design and build your baseline quickly.
This leads to improved productivity and visibility for your workforce. Connect to your existing systems to create an all of customer view that can be shared between all authorised parties.
If you'd like to find out more on visibility, consistent messaging, workflows, automation with project management and easy integration for your teams or business, get in touch today with our friendly team.
Any questions, our community is here to help in the Support & Updates area!
Try a 30 day free trial of our Intelligent Operations Platform and start seeing the benefits of automated workflows, informed decision making and a single, comprehensive view of your business in real time. Start collaborating today.
Start your free trial today
Not sure where to start? Request a demo from our team via the link:
Request a Demo
Or you just have some questions:
Email: mobile @ duskmobile.com
Phone: +61 (0)3 9071 0333