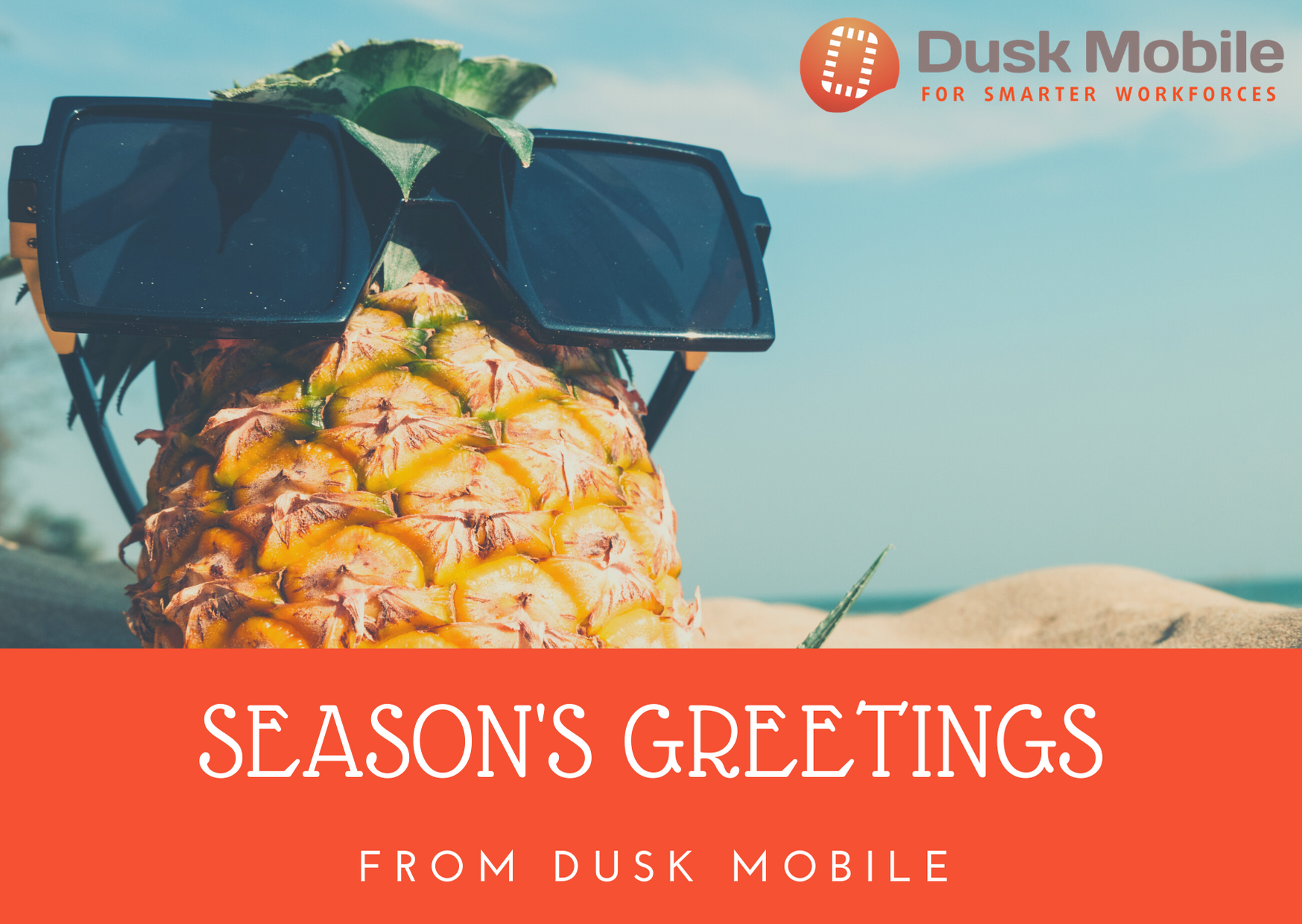 Seasons Greetings from Dusk Mobile
The end of 2020 is just about upon us and what a year it has been. For many it's been a year of numbers and statistics, both good and bad. Many new phrases now form part of our vocabulary that just 12 months were virtually non existent. We've had to adapt to a new way of life rapidly across our personal and professional lives.
Firstly a huge thanks goes to the team who work incredibly hard to look after our customers and build out functionality that is game changing for our customers. In some cases feature sets that were a vision and a "What if". With our platform, examples that spring to mind include mobile to mobile task assignment, job baskets, consolidated map based daily run sheet reports and much more. Pushing technical boundaries has earnt us many referrals and something we're proud of as a business.
The Intelligent Operations Platform (IOP) continues to deliver value and a number of key strategic partnerships have seen us expand both locally and overseas during the year. We've explored IoT use cases for many years and I'm pleased to say we've grown significantly in this area. Our customers have enjoyed showcasing basic scheduling and field completion workflows before building on that investment within their business teams with continuous improvement. Visibility of never before seen assets and automation of legacy processes has delivered significant value.
Some notable deliveries this year for our customers
Socially Distant App Safety – As the world was challenged on multiple fronts, those in essential services needed to adapt and quickly. Continuing to perform critical works with the same level of safety and now socially distant with saw us deliver socially distant JSEA's and in field task assignment across our mobile apps.
Bulk Automation of Works – Calendars have been doing this for years, so we introduced it to works planning for both simple and complex works. Setting up baskets of work by assets, customers, jobs, locations and more with timed releases for your field crews ensures operations continue if those in planned works are absent or need to focus on other areas of planning and communication. Designed for both manual or automated release.
Insights – On the other end of capturing rich data is being able to learn from it and add value back to your customers and business teams. As teams became remote We introduced insights throughout the IOP with rule based permissions for different teams to access. Reduce siloed works and provide visibility to maximise the use of your assets, equipment and resources.
Navigation & Optimisation – The increase in work from home has meant interruptions need to be kept to a minimum. Whether that is planned or unplanned works or appointments for service. Arriving on time and keeping customers informed became all the more important during 2020 and to service it, we introduced a bunch of new functionality.
More Integrations and choices – Technical investment needs to maximized and the tools that do what they do well are not going anywhere, so we've made it even easier to keep them and integrate with our technology.
I'd also like to thank our customers, who each had their own challenges during the year but have worked through with their teams and us. In a number of cases, this has resulted in stronger relationships and we've all enjoyed learning a bit more about each others home lives! If there is one positive out of this year, it's been the spirit shown by businesses and customers alike to support one another. We've gained a number of new customers through the year and new team members, so welcome to all!
Recommended Reading
For those that know me, I relish the challenge of delivery and self promotion of any kind is uncomfortable but as a business owner, being uncomfortable is part of the rewarding journey. Over this year I've read a number of books on Sales and can recommend the following:
Incentivology – Jason Murphy
I found this very interesting due to the way different behaviours incentivize different outcomes. At a high level this isn't surprising but digging deeper and tracing back how far this goes made for interesting reading.
The High Velocity Sales Organization – Marc Wayshak
Hiring Superstars and knowing how to, may seem like an illusion but not with this book. As a personal challenge, I decided to follow the process and it made me incredibly uncomfortable at different stages but it worked!
The team are taking some time over the Festive period and a skeleton crew remains onboard to provide support as always.
Thank you again and all the best for Christmas and a happy, healthy 2021. Season's Greetings!