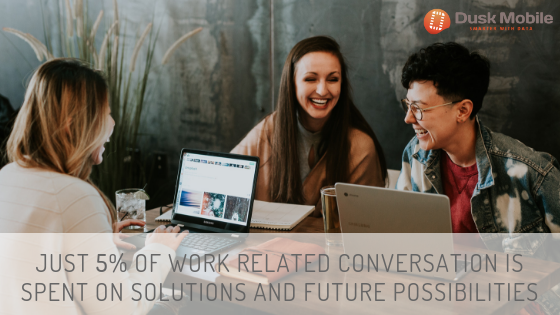 5 ways to improve productivity for your teams and how to get started
Productivity = output / input
How do you improve it and what are some easy steps you can get started with? This doesn't just mean getting more done but being smarter about it.
At the core of most businesses are the staff. I say most as there are numerous examples driven by technology and freelancing that have reduced or removed this requirement, however some of the following improvements still ring true. For the purposes of this week's blog post, we're talking bricks and mortar companies with staff comprising employees and contractors.
1. Staff
Much has been written about this valuable asset and more so in the last 5+ years in my opinion. Here are key areas we focus on:
Wellbeing.  it goes almost without saying that providing the right environment for your teams to flourish will lead to noticeable productivity improvements. What does Wellbeing look like though and how is it achieved?
Reducing stress. This is a good place to start. All roles have an element of the unknown and the unexpected but keeping them to the minimum and managing them when they do occur is what really matters. That last minute customer request, server outage, family emergency, the list goes on. As a leader, accommodating these becomes a necessity and how they are handled equally important. Furthermore, reducing stress means less time away sick that equates to higher productivity.
Flexibility. Now more than ever before, staff have the luxury of remote working on the table from other prospective employers. Eliminating the commute for part of the week pays dividends. With technology from the likes of Zoom, video calls are easy and other communication technology including Slack mean no one is far away. Capable internet either wired or unwired is prevalent in most of the country.
Personalisation. These are items such as phones, tablets, laptops even down to salary, bonus and leave Offering these through structure and management has become non-negotiable. Having the right controls such as device management software or policy with clearly outlined acceptable behavior supports this.
Perks. Many in the list above would once have been considered perks. 15 years ago, to work from home was the exception not the norm. So, what do perks look like now? The spectrum is wide and while technology companies in the Bay Area of California have been offering these for years, the rest of the world is catching up. Blurring the lines between personal and professional time has shown productivity increases. What time or financial benefits can you help your staff with, allowing them more time in their day or money in their pocket?
Examples include:
Subsidised or free travel including private transport
Laundry services
Subsidised or free meals
Subsidised or free childcare, including onsite childcare
Time for personal development beyond just study leave
Fitness including gym subsidies, onsite classes
Tech centric competition such as game tournaments
Providing time to volunteer for an initiative in a 3rd world country or a charitable cause in Australia
A few other examples:
Pets in the workplace
Unlimited leave
Job rotation for a month
Growth. Investing in your staff through training. I'd preface this with aligning company paid training with career and business direction to start with. My personal request for career development many years ago for the Company Directors Course here in Australia, whilst a mid-level manager wasn't approved….
This person has chosen to work for your organisation in their short time on this planet and even shorter working career. Become an employer of choice and as a leader, someone who will be championed to the friends of your staff. This leads to increased morale and subsequently productivity.
2. Business Direction & Culture
An engaged team with a shared vision on where the business or their team are heading leads to productivity improvements. Stemming from the values, vision and mission upwards, to regularly reporting on and celebrating aligned achievements. Accessible leadership teams foster this. Business owners and leaders owe it to their staff to be clear on this area with open communication and more recently, collaborative dialogue popping up.
The appointment of digital advisors or more junior roles to executive teams in organisations that aren't able to release budget for full time roles at that level provides clarity and aspiration for others to follow suit.
To quote CRM learning on the power of future conversation: Typically, 80% of a work-related conversation is spent rehashing the problems of the past and assigning blame; 15% is spent on what's happening now and 5% is spent on solutions and future possibilities.
3. Environment
Most of us at some stage have worked in an environment that was not conducive to producing good quality work. Perhaps it was too dark, too noisy, poorly ventilated or an amalgamation of different teams. Perhaps your office was just swept up in the "open office" craze that left you fighting for a desk and to hear! Providing the right kind of environment is crucial. If you don't have the ability to change much in your current environment, consider a co-working space where the environment is largely made for you. Our personal favourite is WeWork
4. Collaboration Tools
I touched on these earlier with staff and technology, so I won't expand too much here but there really is an abundance of fantastic products out there today. We've mentioned Slack above and there is also Trello from Atlassian. Our Intelligent Operations Platform (IOP) provides a collaborative gateway to all these great tools in one place for managing and accessing project documents, many leading 3rd party products and your core data from leading global vendors. Collectively these products remove physical location boundaries and supercharge productivity.
5. Automation software
There is still a vast amount of wasted time on documenting and recording information with paper that could be achieved through technology today. From digital forms to business rules to handle decisions right up to automation, there are many opportunities to achieve productivity improvements.
Duplicate data entry and process request/approval hold ups are regularly sighted as the biggest inefficiencies along with their downstream challenges. Challenges such as information retrieval, information sharing and up to date information.
Takeaway Tip
So how do you get started? Measuring productivity to achieve a baseline is important and here on Simplicable, there are 3 examples of the productivity formula.
The Dusk Mobile Intelligent Operations Platform connects your staff on any device, any time and in any location. Integrate your favourite products quickly and easily for real time collaboration amongst your teams. Automating work functions and delivering a connected experience has never been easier and achieving productivity improvements can start tomorrow.
If you'd like to find out more on productivity improvements, workflows, time confirmations, centralised project visibility including scheduling with easy integration for your teams or business, get in touch today with our friendly team.
Any questions: Our community is here to help in the Support & Updates area!
Try a 14 day free trial of our Intelligent Operations Platform and start seeing the benefits of automated workflows, informed decision making and a single, comprehensive view of your business in real time. Start collaborating today.
Start your free trial today
Not sure where to start? Request a demo from our team via the link:
Request a Demo
Or you just have some questions:
Email: mobile @ duskmobile.com
Phone: +61 (0)3 8679 2208
References