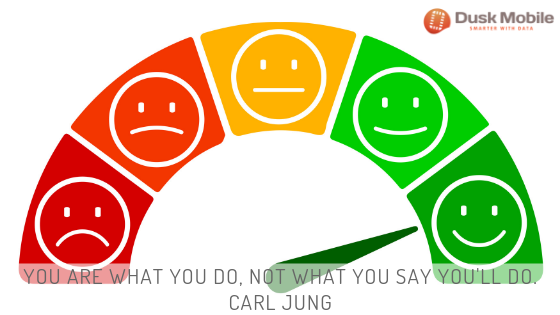 5 ways to provide more accurate information to your customers
Your customers come in through multiple channels, planned and unplanned, directly and indirectly. One common theme is the level of customer service they expect.
Whole industries have been put on notice and forced to look at their customer journey to bring it in line with disruptive models. From the depth to the breadth of service. Taxis have been around for decades and pizza has been delivered for decades, yet in the last 5+ years both have been transformed. Industries that have stood the test of time for centuries such as banking haven't been spared either.
This transformation and movement into Industry 4.0 sees the customer more than ever at the center. So, in an asset intensive industry with distributed workforces, how can your organisation embrace this?
1. Customer contact
Whether this is a customer calling to report a problem, taking part in a planned engagement or providing feedback, they need to know they have been heard. One of the most frustrating parts of customer communication is the unknown. Has their communication disappeared into the abyss, will they get a call back, has their voice been heard?
To address this, look at the customer touch points and undertake customer journey mapping. When they contact your organisation, where can they go and which rabbit hole can the customer go down. Look at a continuous loop until the customer has been serviced across all channels. Nothing should slip through the gaps. A very common example is landing on the voicemail of someone who is on leave or their inbox, leaving the enquiry unattended or the customer having to call back in as they have reached a dead end.
Establishing workflows for this with an integrated rule builder using SLA's with response times, tied to staff KPI's showing real time reporting, delivers a comprehensive picture.
2. Set Expectations
Give your customers realistic expectations. Worse than receiving an automated thank you email from an enquiry, is it not having useful information contained in it. How many of our readers have had to follow up on an enquiry because they haven't heard back? An expected date of return communication on an automated email or the department addressing their enquiry along with their contact details and service level agreement is an excellent start.
To further improve this, consider items such as a unique reference number that is aligned to your digital system or a real person to add the human component to the communication.
Read more on this post about consistent customer messaging, to ensure data aligns between physical and virtual worlds
Real example #1 – I contacted VicRoads (the State based road authority in Victoria) this week to report a pothole that had caused 3 punctures for cyclists that I know of in under 2 weeks (myself being 1). I found the area to report the issue easily on their website and after a quick Google Street View search was able to provide the location. VicRoads had tick boxes to confirm if I'd like confirmation of email receipt and confirmation of issue being rectified. I ticked Yes to both and received an email in under 30 minutes confirming my request had been passed to their authorised contractor from "Ruth". A later email at about 4pm confirming the repair work had been completed. Digitally, this was a great experience.
3. Customer Feedback
Across our customers today, the post job survey or feedback is rapidly becoming as important as the job itself. Following up with a quality control audit, customer survey, in person customer interview and more. What gets measured gets improved, to quote Peter Drucker.
To address this, maintaining good quality accurate customer data is imperative. Segmenting your customers in your CRM will further assist in providing targeted communications and a personalised service
Real example #2 – A recent conversation with one of Dusk Mobile's customers centered around how relationships could be built and maintained beyond just when the customer needed something. Typically, that something was a problem. In other words, the only point of engagement was based on a negative experience to start with, so our customer was on the back foot from the start. Examples explored included trials of new technologies, participation in community engagement both in person and digitally. Incentivising for changed behaviour with something the customer values such as money in their pocket was another area. Several years ago, this conversation would not have occurred or been along very different lines.
4. Real time information
This has become a given. Your customers can see where their food order is, the estimated time of arrival for their ride sharing vehicle and even where their children or animals are plus their parcel deliveries. Moving from an 8 hour window to a 4 hour morning or afternoon window, to seeing it real time today.
To address this, consider proactive messaging to your customer to confirm the appointment, then alerting at set intervals ahead of the visit with perhaps even a pin on a map that becomes visible inside the last 5 kilometers. Your customer can still be mobile without being tied to the house waiting for your visit.
5. Create a consistent experience
A customer starts their journey with your organisation, which could be in person, over the phone or via digital means. This could be an enquiry but it involves needing more than 1 party in your organisation to resolve it. Perhaps a decision is required from someone with authority or an area of expertise.
Lack of handover between parties is another layer of frustration that customers experience. Having to explain themselves again quickly turns an enquiry to a point of frustration or a frustrated customer into a lost customer.
To address this, consider starting with a digital source of truth that captures all communication. Bringing together online chat, email, calls and even in person conversation is provides a solid baseline.
The next stage is granting authorised access to this information through historical look up. Imagine if your field crews could reference not only historical asset information (that's part of another blog post) but also historical information for the customers they need to interact with. "Good morning Mrs Jones, last time we were here, I believe you were unhappy with the wood chips left over after our work. I'd like to assure you we have taken that onboard and will be doing a thorough clean up and welcome you to inspect at 3pm when we finish".
There are infinite possibilities here to put the customer at the center and connect with them
Takeaway Tip
So how do you get started? Speak to the team at Dusk about their experience in delivering workflows to their customers. Using drag and drop functionality, design and build your workflows quickly. We even put a demo video together on our YouTube channel here. This leads to nothing slipping through the cracks and your customers receiving an improved experience. Connect to your existing systems to create an all of customer view that can be shared between all authorised parties.
The Dusk Mobile Intelligent Operations Platform connects your staff on any device, any time and in any location. Integrate your favourite products quickly and easily for real time collaboration amongst your teams. Automating work functions and delivering a connected experience has never been easier and achieving productivity improvements can start tomorrow.
If you'd like to find out more on visibility, consistent messaging, workflows, automation with project management and easy integration for your teams or business, get in touch today with our friendly team.
Any questions: Our community is here to help in the Support & Updates area!
Try a 14 day free trial of our Intelligent Operations Platform and start seeing the benefits of automated workflows, informed decision making and a single, comprehensive view of your business in real time. Start collaborating today.
Start your free trial today
Not sure where to start? Request a demo from our team via the link:
Request a Demo
Or you just have some questions:
Email: mobile @ duskmobile.com
Phone: +61 (0)3 8679 2208