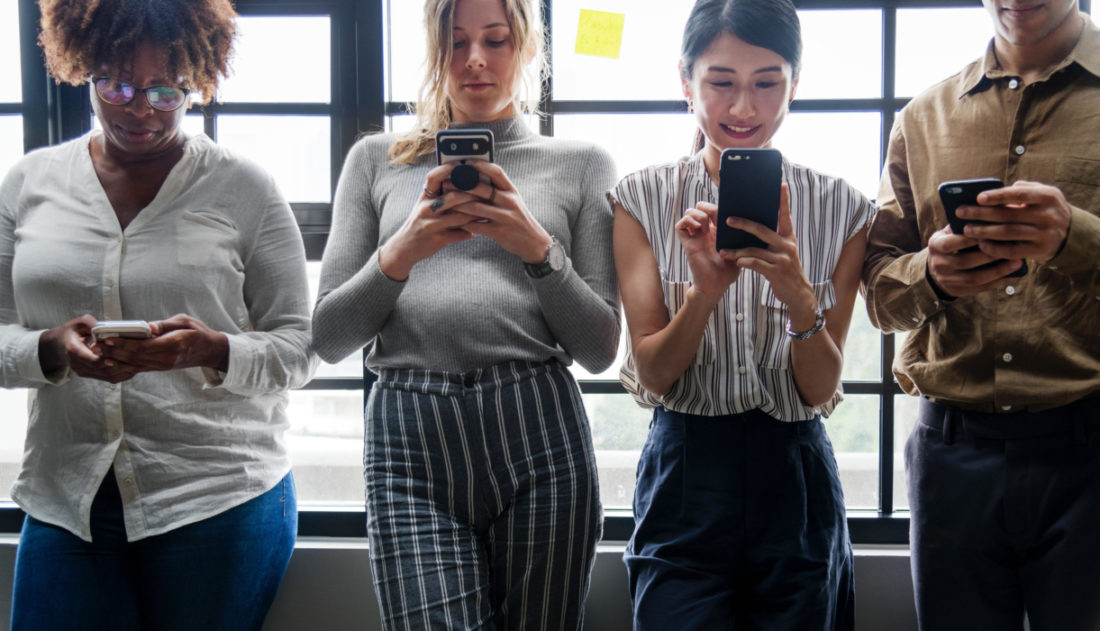 Dusk Mobile – Digital Workspace: Overview, Needs & Benefits
Digital workspaces are growing, and in a big way. The focus of enterprises is squarely on improving the collaborations, connections and communications (the 3Cs, so to speak) – to improve user-experiences to the next level. The role of cloud services and mobile applications in an enterprise setup is going up at exponential rates. By the turn of the decade, mobile apps will account for nearly half of all team interactions held across the globe.
For the increasingly mobile present day workforce, seamless collaboration opportunities, glitch-free remote access and flexible work options have emerged as key requisites. To tackle these issues and drive businesses forward, more and more organisations are switching over to digital workspaces – as part of their overall digital transformation processes. By 2021, the worldwide digital workspace market will be worth close to $15 billion – with the 2018-2021 CAGR being well over 28%. In what follows, we will look at the key needs, trends and benefits of digital workspaces for business:
Understanding the scope of digital workspaces is vital

–
New technology can deliver value to enterprises, but only when they are planned properly. Instead of trying to implement digital workplaces just because other organisations are doing it, business-owners and IT managers need to first prepare a clear set of objectives that they wish to attain with the help of increased digitisation. These objectives can range from better communication and collaboration, to more scope for innovation and an overall lift in employee productivity levels. The most important tools and components of a business also need to be identified, along with a revision of the existing IT infrastructure of the company. Digital workspaces should be implementable within current IT setups, and should not require a complete overhaul of the system.
Note: Easy scalability is a key feature of any digital workspace platform. That's precisely why a workspace should ideally be extensible with the help of third-party connectors and APIs.
Growing need for mobile-first experiences of employees –

Acquiring and retaining the best talent, and keeping the workforce engaged, motivated and informed right through, are vital aspects behind any successful business. The nature of this workforce is constantly evolving – and at present, there is a rapidly growing demand worldwide for working from remote locations (remote workplaces), flexible working hours, and a better 'work vs. life' balance. For companies with a decentralised/distributed pool of workers, it is all the more important to provide a unified set of tools, digital platforms/dashboards and technological ecosystem – to keep everyone on the same page. No longer is it enough for organisations to consider only the people coming to office – the volume of 'non-desk' workers is rising, and uniformly mobile experiences have to be delivered to all employees. An end-to-end digital workspace can take up employee motivation levels too.
Gap between ideation and implementation of digital strategies –

While it sounds pretty technical, a digital workspace is not something that only the 'IT guys' need to worry about. Instead, such a modernised workplace should have a master plan that includes every person/unit in an organisation – right from the tools, processes and ideas, to the people, the day-to-day workflows, the web portals and even the metadata. While Europe, Oceania and the US are making rapid strides in terms of digital workplace adoption, Asian companies have fallen behind somewhat. While there are no problems over the awareness of the need for enterprise-level digital transformation (in a recent survey, over three-quarters of the respondents expressed this need), less than 30% of these companies have actual, holistic digital strategies in place. The establishment of a digital workplace involves a complete change in business culture – and that is probably one of the reasons why many companies are facing problems while trying to take the leap.
Note: Without a well-thought-out digital strategy in place, technology can become unnecessarily complicated, and security issues can crop up too.
Digitisation breaks down organisational silos –

Moving beyond the traditional 'work environment' can, and should be, one of the key motives for implementing digital workplace solutions. In a digital environment, there are no organisational silos – and employees (offsite and onsite) are free to collaborate and participate in knowledge-sharing activities. This collaborative engagement, in turn, allows everyone to join a common innovation framework – enhancing efficiency levels and opening up the total business infrastructure. The fact that digitisation allows workers to access data and perform their allotted tasks from any location and at any time is a further source of convenience. Successful teamwork is critical for the sustained success of any organisation, and by breaking down traditional departmental & time/location-based silos, digital workplaces go a long way in ensuring that. In essence, a cutting-edge digital platform can help a company gain significant competitive advantages.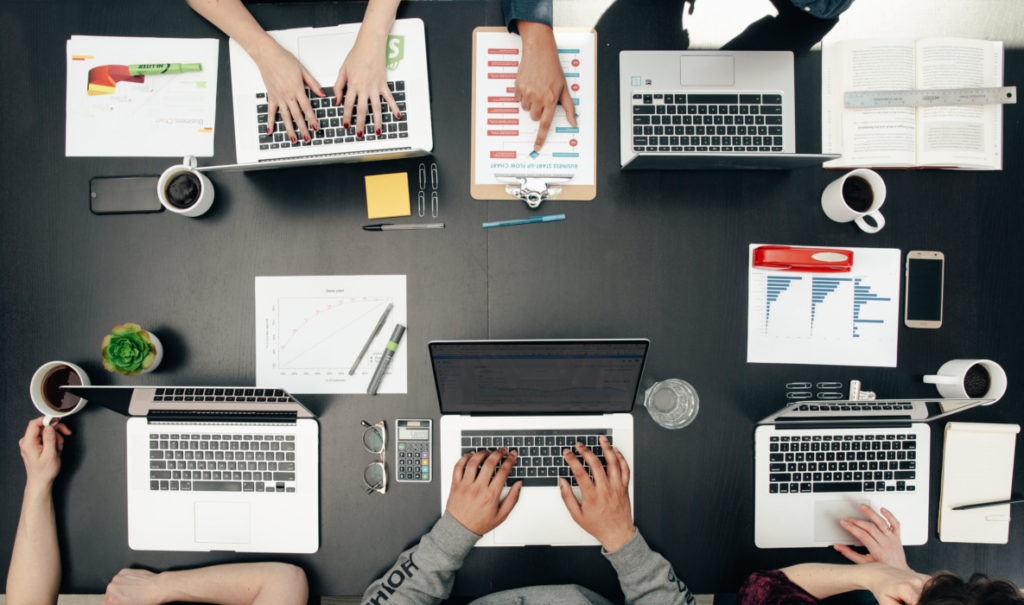 Robotics, augmented reality and other technologies to deliver the X-factor –

While we are still some way away from full-blown adoption of immersive technologies at work – the trends are already there for all to see. The growing interest in digital workspaces is being accompanied by rapidly rising investments on advanced robotic process automation (RPA) – in a bid to automate repetitive, manual tasks that were either too time-consuming or error-prone (or both). What's more, new and interesting use cases of combining robotics with artificial intelligence (AI) and machine learning (ML) are coming up, expanding the scope of digital workplaces further. Augmented reality (AR) also has a role to play over here – with Gartner predicting that 1 out of every 5 large-scale businesses will adopt some form(s) AR/VR and mixed reality (MR) tools by the end of 2019. The objective is pretty much clear – to go beyond expectations and deliver that 'a-ha!' factor.
Note: With powerful robotic process automations, enterprise ROIs can increase by up to 180%.
Tackling the many risks of BYOD –

In the United States, close to 65% workers are remotely located. In addition, more and more companies across the globe are adopting the 'bring your own device' (BYOD) culture. In fact, a study by Microsoft revealed that 2 out of every 3 people use their personal device(s) at work – no matter what the actual stand of their companies over BYOD might be. Now, the unsafe, potentially dangerous applications installed on these devices come across as necessary evils – and business-owners have to remain wary against probable malware, or hack attacks, or damaging data leakages. In order to mitigate these risks, enterprise mobility management (EMM) and unified endpoint management (UEM) have emerged as important tools for the organisations/IT managers. The key here lies in maintaining the right balance between allowing workers to use their own devices (this enhances engagement levels) and ensuring that the digital assets of a company are not compromised in any way.
Note: A digital revolution for businesses would also include the adoption of customised enterprise social networks, as a tool for intra-organisational communications. The world will have nearly 650 million paid users of these networks by 2020.
So, who exactly are the beneficiaries of the digital workspace revolution? –

In a nutshell, everyone. Apart from the regular office workers who would reap advantages from the multi-featured digital work culture and tools, there is also the rapidly burgeoning pool of 'deskless workers' (who do not otherwise have internal access) – who are also brought into the collaboration-based innovation ecosystem. People from all departments – from marketing & sales and accounting, to HR (i.e., the 'process workers') – are likely to witness higher efficiency levels, while functioning in the participative digital workplace. The 'knowledge workers' (the IT personnel, the software analysts & developers, etc.) are the biggest target group of enterprise-level digitisation, however. Other external workers, stakeholders and even the temporary staff members are likely to be able the digital resources easily. People in the office AND people outside it but working for the office are all brought under the same hood by a digital workspace.
Traditional apps to gradually give way to business chatbots –

As machine learning and natural language processing (NLP) become more refined and usable, 'intelligent chatbots will emerge as the face of enterprise-level communication across all layers. The focus is clearly on delivering rich conversational user-experiences (CUX) – and that's exactly where bots (billed as 'the new apps' by Satya Nadella, Microsoft CEO) are making their importance felt. As per a Gartner report, nearly half of all enterprises in the world will invest more annually on chatbot development, rather than on creating conventional business apps. It will be, of course, the responsibility of the organisations to check the areas/tasks where the chatbots will fit the best. Apart from making B2C communications smarter and ensuring 24×7 availability, AI chatbots can also be instrumental for better B2B training and management tasks. At present, close to 79% enterprise applications are discarded after single-use – and 'intelligent bots', serving as virtual assistants, can deliver much better results.
Note: The AI chatbot platform(s) that a company chooses needs to be highly flexible. The tech landscape will continue to evolve, and it should be possible to integrate the newest functionalities in the system with ease.
The need for a culture change –

Going for high-level technological advancements while holding on to old and outdated business values and perspectives is simply not an option. Prior to any new digital deployments, the management needs to: a) change its approach towards doing business, and become more adaptable, and b) encourage everyone connected with the enterprise to be similarly flexible. In order to keep employees motivated and invested in a digital workplace (working at their best), it is important to give them an environment where they can feel connected, supported and comfortable in the truest sense. That, in turn, needs significant behavioural changes – along with a change of the overall business culture. The leaders have to realise that digital workplace is not only about the technology…it is all about ensuring that the RIGHT information is always easily accessible for the RIGHT members of the workforce.
The main ingredients of a successful digital workspace –

There are many small yet important factors – but broadly speaking, there are four main pieces of the digital workspace puzzle. First and foremost, the presence of a 'digitally curious' team is an absolute must. There should be a general willingness to take calculated risks (backed by technology) – a constant attempt to use the latest IT and mobility solutions to drive the enterprise forward. Next up, the availability of reliable cloud services, and a streamlined 'work-from-anywhere, work-at-anytime' culture are required. Closely related to that is the capability to integrate the new technologies in a non-disruptive, accelerated manner. Factors like socio-economic conditions, budgetary constraints, location-based problems, and out-of-sync leadership can pose challenges – that need to be overcome. Finally, business owners need to work in collaboration with specialised business solution providers – who will audit existing infrastructures, identify the pain points, and help in the implementation of customised digital workplace solution(s).
The advantages of digital workspaces at a glance

– We have earlier stated that proper adoption of digital workplace platforms and culture can bring in major competitive advantages for an enterprise. What exactly do these advantages look like? Well, for starters, the average employee productivity can be boosted by as much as 35-37% (provided, of course, that people do not have any problems/delays in accessing the apps they need). A more sophisticated, communication-friendly IT system can take up employee satisfaction levels too (at present, 1 out of every 2 employees are 'not engaged enough', while a further 15% are actively 'disengaged' from their work). Given that the average costs of a serious data breach can be northwards of $5 million, the robust security assurances to mobility deployments, made possible by digital workspaces, will be a big factor as well. Since customers will be able to interact directly with these digital platforms (think: chatbots), the overall standard of customer services should also go up by several notches. Speed-to-market, as a result of the higher efficiencies, will become higher too.
Note: In essence, digital workspaces do not embody a single technology per se. Instead, they are created by a balanced merging and alignment of several cutting-edge technologies that can work in conjunction.
It's not a one-shot game; Digital workspaces need a focused approach

– For all the business advantages, productivity enhancements and cost savings that can be achieved by adopting digital workplaces – the whole thing needs very careful planning. Many experts feel that, in the absence of a step-by-step approach for platform deployment (or a proper 'digital enterprise vision', for that matter) – the results can be damaging. The factors that make the mobile workforces more agile and perform at their optimum levels need to be spotted – and these need to be incorporated systematically in the digital platforms and applications. Everyone should know why the digitisation is taking place, what their respective roles are, and how they can adapt – to establish a more flexible, more collaborative, more innovative work environment. If the approach is not focused enough to begin with, problems can ensue.
By the next year, more than 74% enterprise apps will have AI-capabilities – and momentum of recruiting more and more workers on the basis of their AI, IoT and analytics expertise will intensify further. Business owners, working with developers, have to come up with such applications that employees would indeed like to use. Digital workspaces are also set to help enterprises frame 'fully cloud-based' strategies within the next few quarters.
For businesses, digital transformation has moved on from being a 'nice-to-have' element, to a necessity to keep up with the competition. Newer and more interesting use cases of digital workspaces are coming up – and if you wish to keep your enterprise relevant in the backdrop of technological changes, going digital and staying a step ahead of the game is an absolute must!