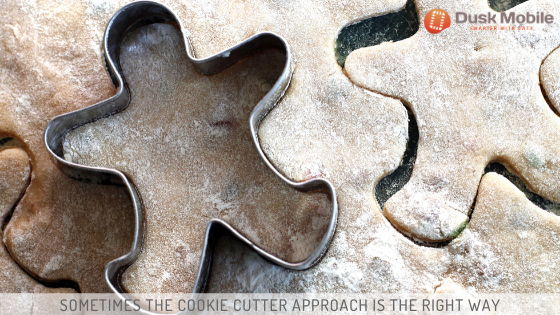 Getting Started with a Smart Operational Contract Management Platform
This week I've taken a look at how to get started quickly with a technology solution for contract management in the operational space with some areas to start measuring from Day 1. This delivers a more efficient method of managing the contract day to day by providing access to the right data at the right time. The article is intended for the supplier of services to the contract. There are a number of other areas of contract management that I'll look at in future posts and some I have looked at previously.
Over the last decade I've witnessed or been part of many large resource intensive contracts coming online. My role has largely been in the technology space with the enablement, management and support of those contracts.
Most newly awarded contracts represent a variation of contracts you're already servicing or an existing skillset. For example, as a meter installer, you tender and win a contract to install meters or as a vegetation management business, you tender for, and win a new vegetation contract. Invariably despite the replication of a very similar business process, enablement of the contract seems to be a common theme of pressure and delay.
Priority is typically given to the physical delivery of the contract and the technology deployed often as a tactical solution, missing important features that enable benefit measurement. Establishing this foundation correctly enables a multitude of measures to be put in place from the outset.
So, what can be done about this? Better planning would be the easy answer but with many moving parts and contracts coming online quickly for different reasons, this is easier said than done. Using smart, easy to deploy technology is another option.
1. Template the technology solution
Having a solution that can be "templated" or a "cookie cutter" approach to quickly and easily "lift and shift" is a great start. The chances are a large amount of known information was used in your tender process such as:
Time to complete the activities
Cost to complete the activities
Compliance and governance overheads
Management of the contract
And many more.
Having a platform that is "no code" and can be fully managed by your business users to replicate contracts as they come online is crucial and furthermore also provides value to the contract.
Being able to rapidly spin up a contract management platform with onboarding, branding and customer access provides a point of difference in your contract tendering and ongoing management with transparency.
2. What are some areas that should be measured?
I've previously explored 5 important metrics for contract performance management here but digging deeper, here are some others:
Resource allocation & Time Sheeting – Time
When pricing your contract, you've likely used a baseline such as a previous contract with some variations and tolerances. This is a good start but only as good as the last set of data. It's a great opportunity to incrementally introduce the collection of accurate data. One of the most important parts for profitability of the contract is how you resource it and to understand that, involves knowing where time goes.
Recently I wrote a blog post on introducing a no code time sheeting solution to your organisation, which can be found here.
Key Performance Indicators and Service Level Agreements – Performance
KPI's and SLA's would have been agreed during any contract award negotiations and form the basis of the measurement between you and your customer. They now need to be measured and transparent for ease of reference. Using dashboard capability to provide a view "per customer", this can be up and running quickly. Some of your customers may prefer to report on this information themselves with their inhouse reporting solution. This should be straight forward for them to do.
Safety is another performance measure that may sit in here including complying with zero Lost Time Injuries (LTI) or Medical Treatment Injury (MTI). Should either of these happen, the ability to report and take action on them should be readily available by way of data.
Planned and Unplanned Work – Visibility
Building on the first point, to measure Time. In doing so, you may identify an opportunity for improvement through data capture, the next step is to capitalise on it. Your contract could be structured to use dedicated staff or your staff could be assigned to multiple contracts. Having visibility of their work and capacity provides for the opportunity to assign additional work accordingly through smarter planning.
Contracts that share your staff require technology with strong planning and scheduling capability, to ensure their available time for work is optimised.
Optimisation can be achieved with assignment based on geographic location, skills, priorities or align with broader customer impacts such as a planned service outage to prevent repeat interruptions.
Financial Performance – Profitability
Gathering data from different measurement points starts to provide a strong overall picture of contract profitability.
There may be costs that are eligible to be passed back to your customer, which have been incurred outside the contract agreement. Beyond training of your staff to manage this, readily available and accurate data makes this much easier. If the same information is captured on paper forms, or worse, not captured at all, money is potentially being left on the table.
The ability to incorporate different sources of data to provide a complete picture should be straight forward. By introducing automation and dashboard summaries, this allows for a deeper dive into specific anomalies with exception reporting. Alternatively, the ability for your existing reporting product to report directly from your chosen contract management technology solution for the ultimate flexibility.
Takeaway Tip
Collaboration in your organisation can start today with a tactical but strategically scalable solution, the Intelligent Operations Platform (IOP) from Dusk Mobile. The IOP is an industry leading collaborative work management platform. It connects your staff on any device, any time and in any location. Integrate your favourite products quickly and easily for real time collaboration amongst your teams.
Automating work functions and delivering a connected experience has never been easier and achieving productivity improvements can start tomorrow.
A great Field Services Management (FSM) software solution that includes a Program management tool, provides you with an easy way to build automation into your daily work management processes. The creation and management of these should always be via a user-friendly (and 'No Code') interface – allowing your business users to maintain and evolve the automation without the need for additional IT or development costs.
Avoid solutions that increase support overheads on your IT department to maintain them, or (worse still) embed a dependency on the provider to deliver ongoing additional professional services to continue servicing your evolving needs'.
So how do you get started? Speak to the team at Dusk about our experience in delivering our collaborative work management SaaS solution to your business. Using bite size deliverables and incremental change, your business can transform progressively. Clean, secure integration with a polished user interface to design and build your baseline quickly.
This leads to improved productivity and visibility for your workforce. Connect to your existing systems to create an all of customer view that can be shared between all authorised parties.
If you'd like to find out more on visibility, consistent messaging, workflows, automation with project management and easy integration for your teams or business, get in touch today with our friendly team.
Any questions, our community is here to help in the Support & Updates area!
Try a 30 day free trial of our Intelligent Operations Platform and start seeing the benefits of automated workflows, informed decision making and a single, comprehensive view of your business in real time. Start collaborating today.
Start your free trial today
Not sure where to start? Request a demo from our team via the link:
Request a Demo
Or you just have some questions:
Email: mobile @ duskmobile.com
Phone: +61 (0)3 9071 0333