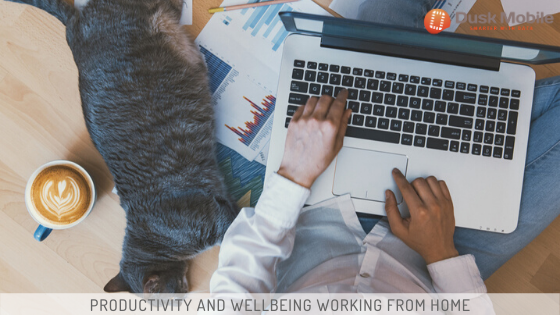 Productivity and Wellbeing While Working From Home
This week I look at a current topic that needs no introductions beyond the title. For some business leaders, your staff working from home is quite normal and has been in place for years. For others, working from home is a foreign concept for both leaders and teams.
Working from Home
Since the dawn of remote access products, greater flexibility for more traditional office roles started to follow. That said, working from home was well established before that for roles including Sales amongst others.
Personally, I can trace this back to the Blackberry in 2005. As a young IT Manager, my then enthusiastic CFO approached me and placed an inflight magazine from Qantas on my desk at work, announcing he "wanted one each of these for him and the leadership team". A steep learning curve followed into unchartered waters for me and an increase in tech support but it opened my eyes to a new way of working.
Since then I've been an advocate of working from home and I've endorsed it in my past career as a Manager and now as CEO of Dusk Mobile.
There are many tools out there today to enable this and most businesses were ahead of the curve before this recent pandemic was confirmed. In part this has been enabled by standardisation of office technology tools, including but not limited to creating standard operating environment (SOE's) on your work computers, to security controls and group policy management. This has enabled updates, patches and access to be more easily managed.
In talking with many of our customers in the last 3 weeks, most have transitioned with relative ease to working from home.
An article I read during the week from the BBC in the UK had an interesting perspective. "Coronavirus: What if this happened in 2005?"
This is written from a technologist's perspective and doesn't consider external factors such as the increase in global travel since then (allowing the spread to occur more easily), reliance on international manufacturing supply chains and greater globalization amongst others but nonetheless is food for thought. Smart devices were limited with the iMATE JASJAM and iPAQ leading the charge.
As a business Dusk Mobile partnered with VMWare a number of years back to deliver the AirWatch product and later WorkSpace One to assist in this very enablement of secure remote working, so I've witnessed firsthand the growth in this style of working.
What is the new normal going to look like?
This is impossible to predict today. Parents in your business may have their children home from school outside of holidays, the partner of your employee may be out of work and has otherwise spent a career thus far happily employed, freedom outside is restricted to name a few.
However, it is worth considering policies and arrangements within your business longer term with executive level engagement. With many moving parts, opening dialogue earlier may be prudent.
1. What if working from home became more productive than being in your office?
A recent article from Inventium quotes the following:
21% increase in productivity
20% increase in job satisfaction
28% increase in energy levels
20% ROI per person investment
These are incredible statistics and shouldn't be ignored. Contrary to some thinking that your teams will be doing less at home, this research suggests they are doing more, are more satisfied and energized about it too.
2. The Wellbeing of your teams
Working from home for the odd day or even a week is quite different to potentially multiple weeks or even months. So how can you support your teams at this time?
You've probably seen or even been part of "Virtual Friday Drinks". A simple but effective way to come together, celebrate success and create a sense of unity that was easy to take for granted as recently as 1 month ago.
But considering other areas of wellbeing that are easier in an office environment should now be prioritized. Areas such as:
Breaks
Workstation Setup
Exercise
Mental support
Technology has served as the enabler to date and it rings true that it's worth exploring for assessing and managing the wellbeing of your teams. This could be via apps, video or other forms of digital engagement. Early warning signs need to be sought through different means to what they once were and reminders with automation tools are worth exploring also.
On a related note for those in your team with children struggling with being inside, today I was introduced to Cosmic Kids, which is yoga for kids with stories. I may be late to the party in finding this!
Personally, I don't believe there will be a "back to normal". My take is there will be a slow emergence to a new normal for life as we once knew it. An evolutionary journey to a decentralized physical setup but virtually centralized may even be the path we are on…..
Takeaway Tip
Collaboration in your organisation can start today with a tactical but strategically scalable solution, the Intelligent Operations Platform (IOP) from Dusk Mobile. The IOP is an industry leading collaborative work management platform. It connects your staff on any device, any time and in any location. Integrate your favourite products quickly and easily for real time collaboration amongst your teams.
Automating work functions and delivering a connected experience has never been easier and achieving productivity improvements can start tomorrow.
A great Field Services Management (FSM) software solution that includes a Program management tool, provides you with an easy way to build automation into your daily work management processes. The creation and management of these should always be via a user-friendly (and 'No Code') interface – allowing your business users to maintain and evolve the automation without the need for additional IT or development costs.
Avoid solutions that increase support overheads on your IT department to maintain them, or (worse still) embed a dependency on the provider to deliver ongoing additional professional services to continue servicing your evolving needs'.
So how do you get started? Speak to the team at Dusk about our experience in delivering our collaborative work management SaaS solution to your business. Using bite size deliverables and incremental change, your business can transform progressively. Clean, secure integration with a polished user interface to design and build your baseline quickly.
This leads to improved productivity and visibility for your workforce. Connect to your existing systems to create an all of customer view that can be shared between all authorised parties.
If you'd like to find out more on visibility, consistent messaging, workflows, automation with project management and easy integration for your teams or business, get in touch today with our friendly team.
Any questions, our community is here to help in the Support & Updates area!
Try a 30 day free trial of our Intelligent Operations Platform and start seeing the benefits of automated workflows, informed decision making and a single, comprehensive view of your business in real time. Start collaborating today.
Start your free trial today
Not sure where to start? Request a demo from our team via the link:
Request a Demo
Or you just have some questions:
Email: mobile @ duskmobile.com
Phone: +61 (0)3 9071 0333
References