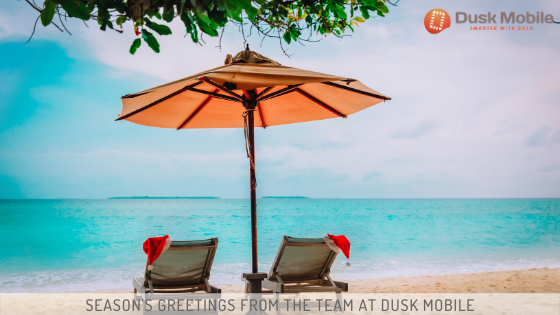 Seasons Greetings from the Dusk Mobile Team
That time of year has come around already and seemly just yesterday the year was starting. 2019 has been Dusk Mobile's biggest year yet but getting here has required the collective effort of the team, our customers, partners and families, so I would like to start by thanking all of them. Without this support, we wouldn't be the company we are today.
Recently celebrated our 6th anniversary and as anyone who runs a business can relate to, it's not all roses! There are tough days and excellent days, like with anything but I couldn't be more proud of what we have achieved and the excellent days far outweigh the tough days.
Our core product, the Intelligent Operations Platform or IOP for short continues to expand in functionality and maturity. We have enjoyed working closely with our customers to build the product out, delivering significant operational savings to their businesses and increasing their bottom line. Working more deeply within the business using our industry expertise to rapidly enable core pain points with technology, delivering efficiencies has helped us stand out as a true SaaS product partner. Taking the heavy lifting away and simplifying processes with technology has earnt us much repeat business and referrals.
Personally, I enjoy getting out onto customer sites or into the field and looking at how as a business, we can give back to those on the front line by really understanding what the process is. Whether that is performing the task itself or processing the outworking's of the task in the office, we can and do automate it.
The team are taking some time over the Festive period and a skeleton crew remains onboard to provide support.
I've noticed more over the recent years, recommended reading lists, so here are a few from me:
Start with the Why – Simon Sinek. I read this book a few years ago and it helps peel back the layers and identify your "why". This acts as your North Star and guides you in decisions, times of questioning. It is particularly useful in business.
The Hard Things About Hard Things – Ben Horowitz. I recently finished this book and thoroughly enjoyed it. I enjoyed it as it is more "raw" and really talks about the highs and lows of business. It shows that as a business owner, yes I might be alone at the top but there are many others with the same challenges and successes. A wealth of useful information about honesty in conversations, focus and dedication plus more.
How to win friends and influence people – Dale Carnegie. I read this book earlier in the year and while the title can sound almost superficial, the book is far from it. A true classic that has stood the test of time. I learnt a lot from this book but I won't spoil it!
All the best for Christmas and a happy, healthy 2020. Season's Greetings!