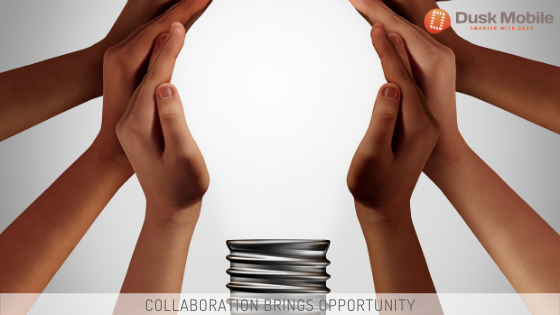 5 benefits from collaborating with your software supplier
This week I look at 5 benefits from collaborating with your software supplier. Let me preface this with collaboration for a functional outcome delivering business benefits to both parties and not anything unethical.
Agile, Lean, Fail Fast, Innovation, Hubs, Tribes – these were once buzz words and are likely now common place in your organisation. You've probably experienced the self-perpetuating energy that exists within the teams responsible for running workshops and eliciting requirements from business users.
And then, just like that the energy can run out, seemingly hitting a wall. This can occur at implementation of those requirements into the broader business, it can occur at engagement to deliver, product build, change management or even business case approval as examples. So, how can you maintain that momentum and succeed in implementing these innovations into your broader business? Consider supplier collaboration.
1. Existing technical investment
You've made a business decision to invest with this supplier and in some cases, significant technical debt is at stake. While I'm not advocating retaining a business relationship, if it isn't working, a good supplier will relish the opportunity to grow with your business. They may even be trying to solve the same collaboration engagement dilemma themselves!
2. Collaboration
If you approach your supplier and ask them to develop some functionality for your version of their product, they likely will and most of us have been involved in this at some stage. Weeks pass, meetings to capture requirements (many) are held, quotes, PO's, developer time is reserved, beta release, testing, general release along with notes. This was just the way business had to happen, driven by the IT architecture of the product but times have changed now with far more versatile technology stacks.
Establishing an engagement model where both you and your supplier can rapidly prototype industry problems, cuts through the time of existing or legacy engagement process. Both parties working closely together to deliver has significant benefits on each side. Additionally, this also adds a far more human element to the relationship where parties that were once at arms length are brought together. As a software company owner, this is one of the greatest satisfactions I see with our customers succeeding through collaboration with our team.
3. Co-investment
If you help your supplier gather requirements, support the design, or assist in the build, then negotiate a reduction in the deliverable charge (if it hasn't been forthcoming). This adds value to your supplier's technology stack and in turn adds value to your business. Quid pro quo. Doing more with less works for both parties. Consider inviting your vendor in to shadow a process. Additional value can be gained with your software vendors engineers being involved for direct input into the design and build.
4. De-risk
We've all seen projects, small and large have challenges. Challenges such as missed requirements, misunderstandings, and scope creep to name a few. With this try before you buy approach between both parties the approach can be validated with incremental deliverables that show value and understanding early on. If your company or your vendor are not experienced in collaboration or you have some functionality gaps, you'd like to close in their product to better suit your business process, this provides a great opportunity.
5. Trust and relationship
In many cases, you and your supplier are still in a relationship today for the right reasons. Trust amongst others. It takes time to build trust with any new party before they become a vendor, so consideration should be given to whether the relationship needs to be changed or just changing it up a little. You've innovated in your business, now its time to bring your software vendor along for the journey too!
Recently our website was updated with some reason's customers have chosen to work with us, which is both inspiring and humbling. Here's the link.
Takeaway Tip
Collaboration in your organisation can start today with a tactical but strategically scalable solution, the Intelligent Operations Platform (IOP) from Dusk Mobile. The IOP is an industry leading collaborative work management platform. It connects your staff on any device, any time and in any location. Integrate your favourite products quickly and easily for real time collaboration amongst your teams.
Automating work functions and delivering a connected experience has never been easier and achieving productivity improvements can start tomorrow.
A great Field Services Management (FSM) software solution that includes a Program management tool, provides you with an easy way to build automation into your daily work management processes. The creation and management of these should always be via a user-friendly (and 'No Code') interface – allowing your business users to maintain and evolve the automation without the need for additional IT or development costs.
Avoid solutions that increase support overheads on your IT department to maintain them, or (worse still) embed a dependency on the provider to deliver ongoing additional professional services to continue servicing your evolving needs'.
So how do you get started? Speak to the team at Dusk about our experience in delivering our collaborative work management SaaS solution to your business. Using bite size deliverables and incremental change, your business can transform progressively. Clean, secure integration with a polished user interface to design and build your baseline quickly.
This leads to improved productivity and visibility for your workforce. Connect to your existing systems to create an all of customer view that can be shared between all authorised parties.
If you'd like to find out more on visibility, consistent messaging, workflows, automation with project management and easy integration for your teams or business, get in touch today with our friendly team.
Any questions, our community is here to help in the Support & Updates area!
Try a 14 day free trial of our Intelligent Operations Platform and start seeing the benefits of automated workflows, informed decision making and a single, comprehensive view of your business in real time. Start collaborating today.
Start your free trial today
Not sure where to start? Request a demo from our team via the link:
Request a Demo
Or you just have some questions:
Email: mobile @ duskmobile.com
Phone: +61 (0)3 8679 2208
Other posts you may find useful:
4 ways to engage your vendors and develop a true partnership
5 ways to provide more accurate information to your customers